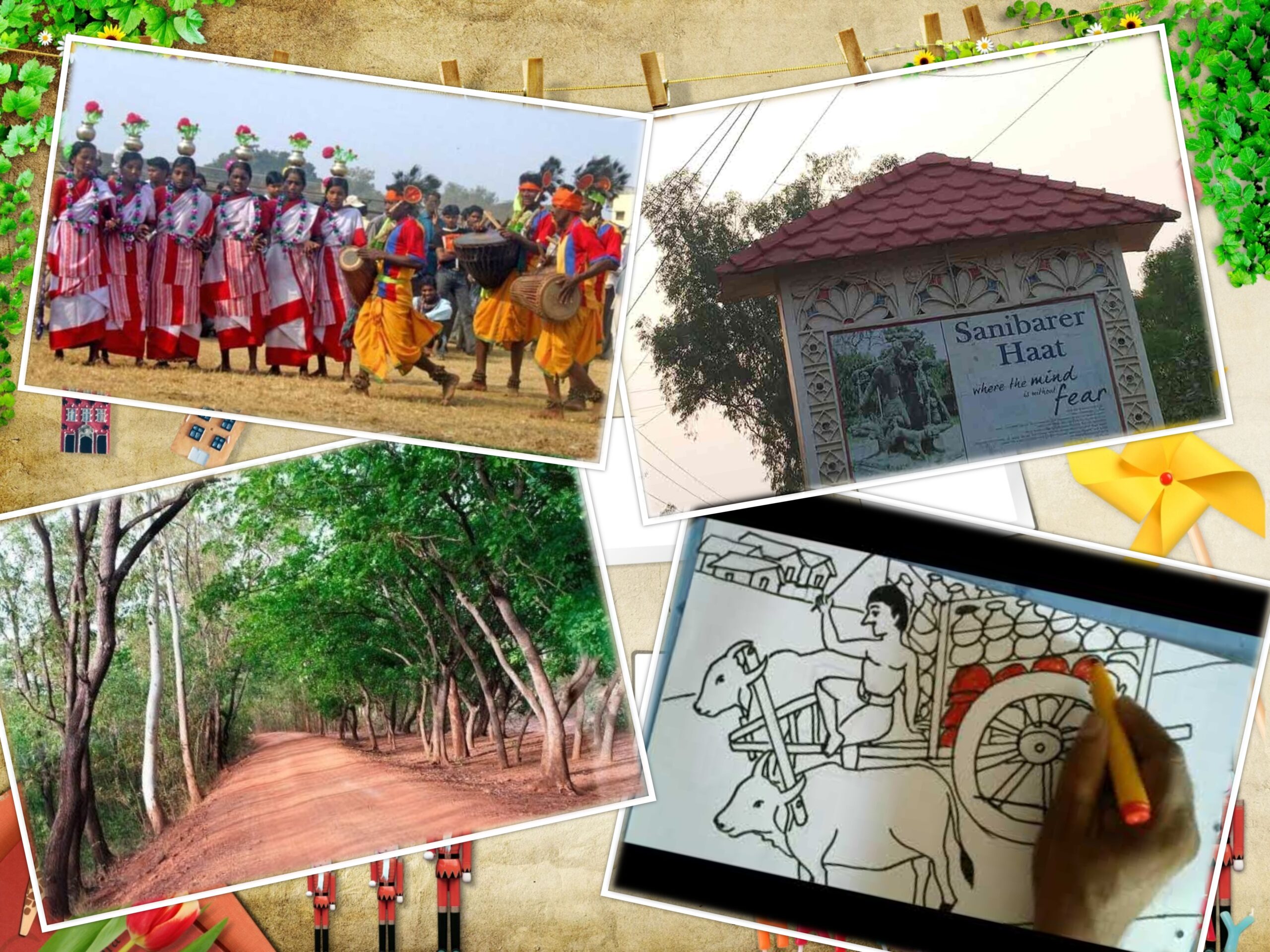 Cultural tourism is niche tourism that is achieving popularity and importance in today's tourism industry where the efforts of the rural people are influencing the habit and lifestyles of urban societies. My gateway at the last weekend of February to Shantiniketan fits as an ideal example of cultural tourism. I have been visiting Shantiniketan very often since my childhood and literally, I have closely experienced the gradual transition and the growth in tourism in Shantiniketan, especially at the Shonibarer Haat. Shonibarer haat is a weekly Saturday afternoon bazaar set up by local artisans in Santiniketan, Birbhum district, West Bengal. It takes place on Saturdays in the khowai region, which is a geographical formation of small canyons resulting from constant erosion caused by wind and water. This place is characterised by Shyambati canal on one side and a patch of dry forest of Sonajhuri (Acacia Auriculiformis) trees on an eroded landscape of red laterite soil on the other side. Sonajhuri literally means "droplets of gold". I visited Shonibarer Haat last in the year 2016, where there were like few (maximum twenty) local shops selling unique handicraft items, especially earrings and pieces of jewellery or home decor. This haat or mini bazaar is special for its ambience as it's very different from a typical market. It is set by the people of the local tribes under the open sky in the woods of sonajhuri and the beautiful landscape of khowai . The earthiness, simplicity and quietness of this haat were one of the key specialities of this market amidst nature. This time it was not the same on my recent visit to the Shonibarer haat on 25th February 2023, the ambience is still the same, with the same open sky and the same sonajhuri trees standing tall. The only major change was instead of a few shops it was almost more than a hundred shops lined beside each other just as one can find in any typical busy market in a city or a town. I was personally quite disappointed with the whole set-up and the chaotic atmosphere of the market. The fame of the market grew and that brought more sellers here. The place got an identity – "Khoai Haat", Haat meaning a village market.
When I visited this place in February this year, we faced a traffic jam given a large number of cars and battery-operated rickshaws that had brought tourists. The market was now at least 2 kilometres long and had proper signage. We could hear the buzz from a distance. The metamorphosis was very surprising. The varieties of products have increased drastically in the market, one can find sarees, pieces of jewellery, kurtas, home decor and so many other exciting handicraft things to buy. This haat was known for its dhokra [1]work and pieces of jewellery and jewellery made of plant seeds and plant products. This time while I was shopping and particularly searching for dhokra jewellery I had to search among those hundred small shops and stalls and found only four to five shops that were selling those. Those shops also had very limited designs and were overpriced. The shopkeeper shared with me that they do not have enough demand or buyers hence they are just barely surviving and a few of them were complaining that most of the shops here in this haat are not even owned by the locals of the nearby villages as it used to be. Most of them are coming from different areas just to set up their business. The idea of this Haat was more towards a sustainable approach which changed and businessmen from outside the nearby villages are giving stiff competition to the people of the local tribes from the nearby village whose shops were there for generations. Just like the dhokra the plant-based jewellery shops were only three in total in the whole Haat and they had the same story of facing strong competition from the other businessman who is selling different variety products. People seem to gather and buy in the shops of clothing mostly. The whole ambience gave the vibe of a mela or a big carnival instead of a small weekly haat or mini bazaar away from the chaos of the urban societies in the woods.
Another unique addition I witnessed was four to five different groups of Bangla Jhumur dancers. In the beginning, I was quite excited to see these dancers dressed in their traditional attire in the market space. They were dancing for money and shifting their performance site from one corner of the market to another. One of the groups did force me and my friend to dance with them. They danced to a very popular number that gained popularity after being used in a Bengali movie "Belashuru" and every time that group was repeating the same song and danced with the tourist. Most of the tourists could join them and follow because of the familiarity of the song. In the meantime, I conducted a short interview with one of the teammates of that dance group. I requested them to perform some other pieces that they would perform in their village festivals. The dancer shared that none could able to follow their steps and songs if they did their traditional pieces thus they stick to those selected popular numbers used in movies. They mostly dance in a semi-circular format encircling their god Maranmuru. They belonged to the Mahali tribe and they dance on different occasions like Korom puja, Bhadra mash, Sarul Gaan and many more.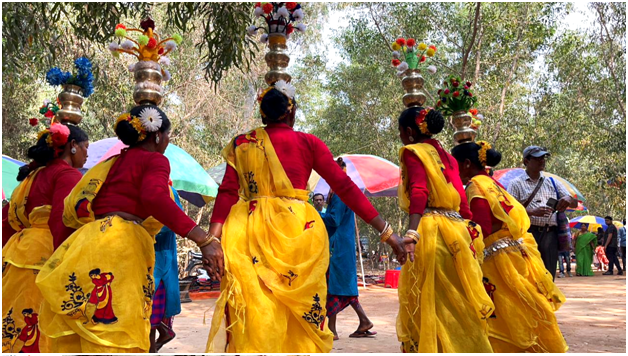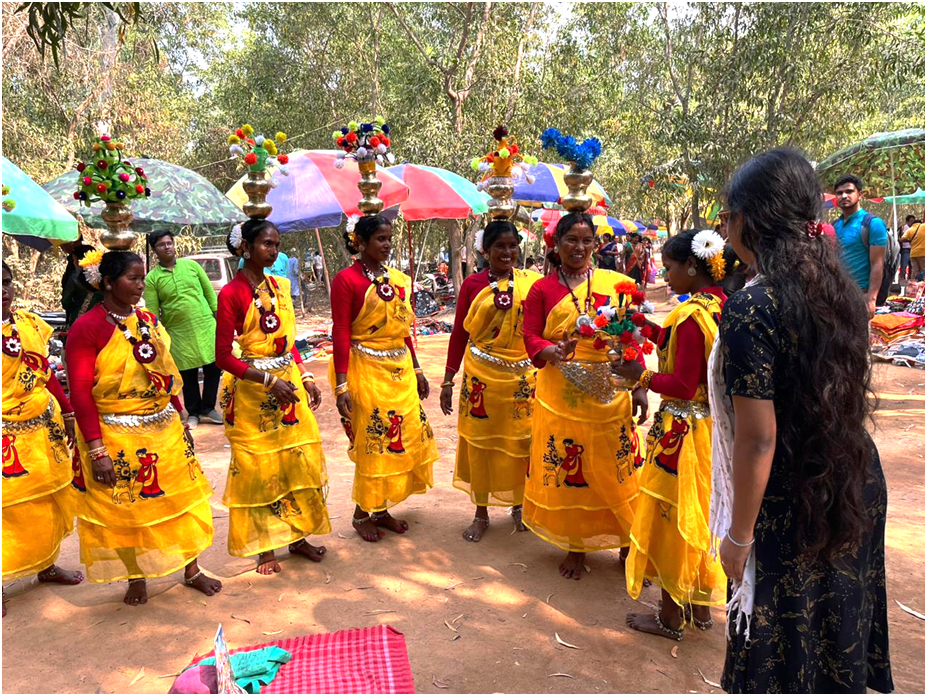 The shift from tangible to intangible tourism resources places pressure on destinations to become ever more creative in their development strategies. Creative tourism is a further development of tourism towards more experiential forms of consumption which emphasize personal development. It is a matter of concern how we as tourists are influencing these dancers to modify their traditional dancing repertoire and transform it into something that can be one of their sources of income. It's not just one dance group but at least four to five groups like this dressed in yellow saree and red border, wearing heavy jewellery and makeup and balancing two levels ghot (mini pot) on their head is a skill to watch. There were six female dancers and three male musicians playing dhamsa, madol and khanjoni. The dancer's hair was tied into a neat bun and they put yellow garlands around it and a big white flower on one side. The photograph of Shiva Parvati whom they worship as – Maranmuru is placed at the centre on a gamcha or red checked cotton cloth and they placed a two hundred rupees note too in front of Maranmuru. After this arrangement, they started their first dance. Being a dancer it was a matter of concern how they were requesting tourists to join them and earn money and in doing so they were compromising their own traditional dances.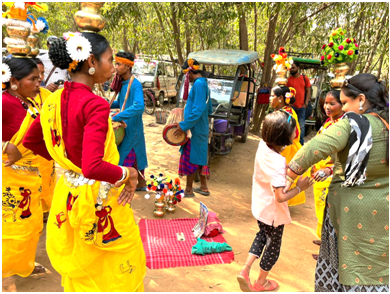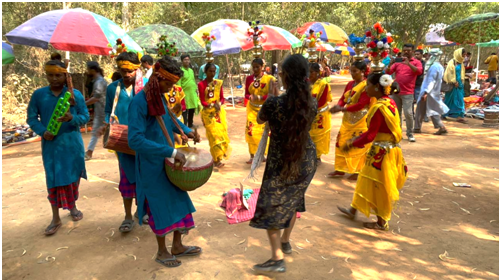 I wonder how it would be if certain organisations could support these dancers economically and offer the time and space to present their traditional steps and songs in their own language in the haat by bringing these individual groups into one followed by a little section for the audience to join them. How the real flower garlands were replaced by the plastic garlands around their buns similarly the exponential growth of this haat can manipulate the local artists which may cost their identity. But then, it is illogical to expect that Santinekatan would be preserved in a time bubble and we too set forth to visit the new attraction.
[1] Dhokra-Dhokra Damar tribes are the main traditional metalsmiths of West Bengal and Odisha. Their technique of lost wax casting is named after their tribe, hence Dhokra metal casting.
---
Center for Indic Studies is now on Telegram. For regular updates on Indic Varta, Indic Talks and Indic Courses at CIS, please subscribe to our telegram channel !
---