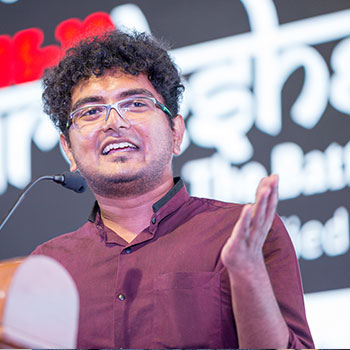 Gopi Shankar M
Gopi Shankar M is an Indian equal rights and Indigenous rights activist. Shankar was one of the youngest, and the first openly intersex and genderqueer, candidates to contest in Tamil Nadu Legislative Assembly election, 2016. Shankar is also the founder of Srishti Madurai Student Volunteer Collective. In December 2017 Shankar was elected to the Executive board of ILGA Asia. Shankar was born as Sarvapunya in Sellur slum at Madurai, Tamil Nadu.
At the age of fourteen, Shankar started volunteering Ramakrishna Mission. Later Shankar was accepted as a probationer for being a monk at Ramakrishna Math. On 2005, Shankar was given spiritual initiation under the spiritual lineage of Swami Vivekananda by Swami Gitanandaji (Former Vice-president of Ramakrishna Math and Mission) who is also a disciple of Swami Virajananda. During Shankar's tenure in Ramakrishna Math, Shankar served as the assistant to the editor of Sri Ramakrishna Vijayam Magazine. On April 2010 Shankar left Ramakrishna Math to pursue Religion, Philosophy, and Sociology studies at The American College in Madurai (affiliated to Madurai Kamaraj University) later Shankar discontinued it.
Gopi is a student of Yoga for past 15 years and Yoga Instructor for past 5 years. Shankar taught Yoga for free to more than 5000 children and Indian Philosophy class for many westerners including Tony MacMahon of Ireland. Shankar partly freelanced the New Horizon Media Pvt Ltd (Tamil Publications). Shankar was awarded a Leadership Degree "Leading Change" exclusively for The Queen's Young Leaders from the University of Cambridge on 2017. He is the only voice from LGBTE community who is asserting the fact that it is only in India under the benign environment of Hinduism that this community was not persecuted and even protected and nurtured.
On the other hand in Islamic and Christian communities these people have been repeatedly persecuted and killed. Now, with foreign funding the narrative in India is being changed to make the Hindus look like villains. He exposes myths like this and as a result has got death threats from various Islamists organizations in the world.