By adopting a non-linear sequence, Ami Ganatra has taken us on an exhilarating journey and narrated all the insights from Ramayana, unravelling every confusing and difficult cruncher at every step. The story is nothing new, yet, the book is worth reading to get a fresh look at the way the author has penned this work rich with vocabulary, notes, bullet points and charts. To analyze various aspects and angles, the book considers the original version of Ramayana, written by Rishi Valmiki to retell the main story. As we know, Ramayana offers lessons to us that are Sanatan or universal and applicable in any situation till today. Making use of this, the book helps to handle the crisis of religion and Dharma we are witnessing in the current world.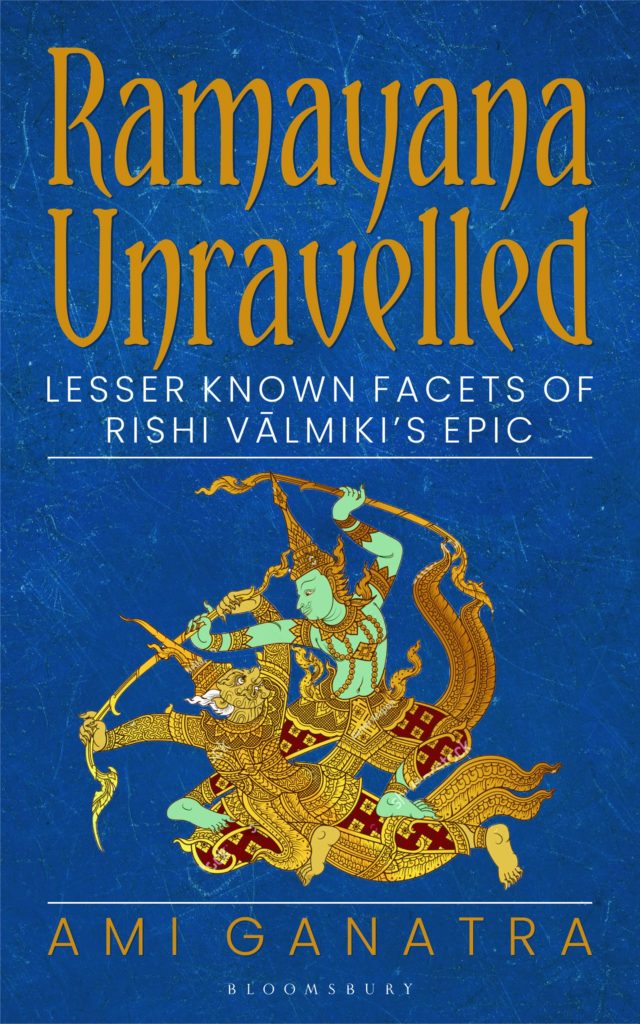 In the very first step of the book, Ami Ganatra provides us with a summary storyline that is helpful for those who are new and not familiar with the main plot. Though not put with the main narrative, the author never forgets to include the summary of Uttara Kand at the end of the chapter. Highlighting the background of Valmiki, the writer of Ramayana and explaining the initial slokas uttered from his mouth, Ami Ganatra, explains the back-story and how a divine inspiration worked behind composing the original poem. In the next chapter, she highlights the bloodlines of every significant character from the epic. This not only helps us to understand the scenario of the main story but is also useful for us to realize the influences and analyze how the characters behave in the later part of the tale. She shares with us a short general knowledge of Kumbhakarna Syndrome, but the most interesting part of the chapter is to know the rise of Ravana and debunking the Aryan and Non-Aryan division theory. Then, the author gives us glimpses of the geographical situation and knowledge of ancient India by discussing the important locations mentioned in the Ramayana where the significant events took place and the main characters came from.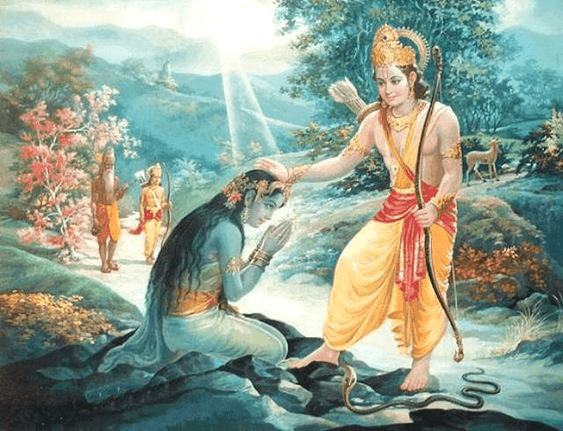 Delving deep into the main story, Ami Ganatra starts with the episodes where Rama was in companionship with his master Viswamitra and from where his mentoring starts. From here we get a brief look at some ancient Indian thoughts, the powers they invoked, types of marriages prevalent in the society and most importantly the relationship between a guru and shishya where Rama, being a prince himself, leaving a luxurious life has totally surrendered himself to his master. Next, the author narrates us the journey of Viswamitra, in becoming a Brahmarshi and from here we learn an important lesson that our real power is hidden in controlling our senses like anger. Then, in Ahalya's episode, the author debunks various popular myths in depicting her character, especially when giving her the proper dignity as a woman in ancient Hindu society is questioned today- as her husband orders her to recompense and Rama put his foot on her. It is important to note that, in the main version, it was actually Indra who was harshly punished and Ahalya was just given the scope to commence her life with a new beginning and realization. The story of origin of Ganga is a wonderful read and here, the readers can make out how the engineering techniques of the ancients were. The next chapter highlights the twists that occurred in the life of Sri Rama as his coronation was just near and inevitable. Struggling between family politics and with a disturbed mind, we find how he has been maintaining a mental balance every time with his sense of dutifulness amid cruel times against him and his strong understanding to accept destiny as it is. In the emotional episode where he meets with his brother Bharata, the strength of his character in keeping his commitment is really inspiring. The chapter ends with mentioning the huge civil engineering project by Bharata while visiting his brother in the forest which definitely proves that our ancestors of that time were not primitive and had a detailed understanding of developing urban settlements.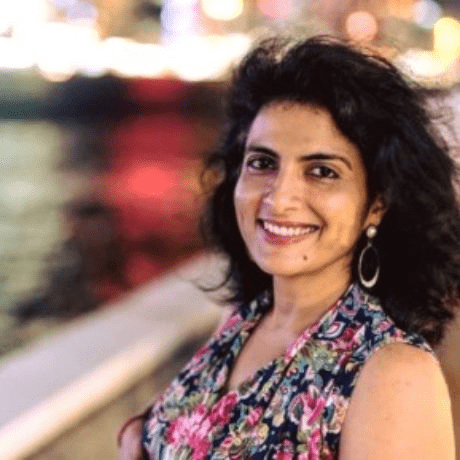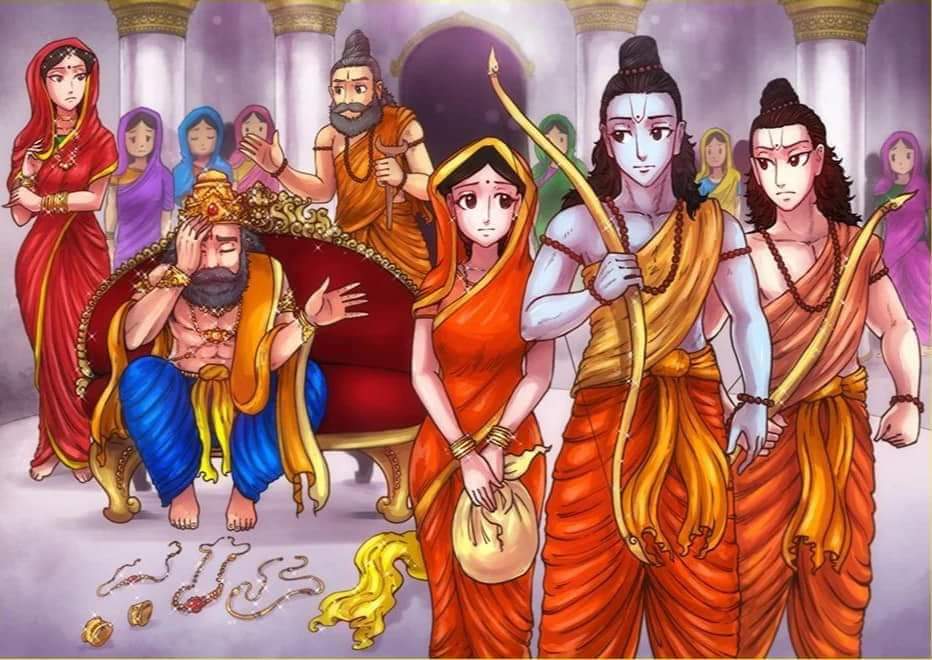 The next chapter depicts Sita's role as Rama's "Sahadharmacharini" from the bonding she successfully developed with his newly married husband and supporting Rama in his time of mental crisis. Though in misery from the material world's perspective both Rama and Sita had the pure heart and mentality to enjoy the serene and divine beauty of forest life to the fullest. Her smartness reflects in her conversation with Ravana at Ashok Vatika with her intelligent replies and confidence shines how she trusts Rama and had full awareness of her husband's dignity. Also, she understood his husband very well as she was asked to go anywhere she wished by Rama before Agnipariksha. Being a flame of fire in herself, she cooperated with Rama at every step which not only makes Ramayana a spiritual journey but an eternal love-story to be admired by everyone. Further, we see Rama's days under the vanara community's companion and again get a glimpse of his sense of dharma where he replied and justified his murder in front of dying Vali. It was not because of personal benefit or friendship, but it was out of his dutifulness as a Kshatriya that made him murder Vali by deception. Till Rama won the war against Ravana, the journey with his association with vanaras helps us keep various important notes like geography of ancient India from their quest for Seeta, the use of medicines used while injured in battles and war and sense of civil engineering of that time from the bridge constructed by Nala.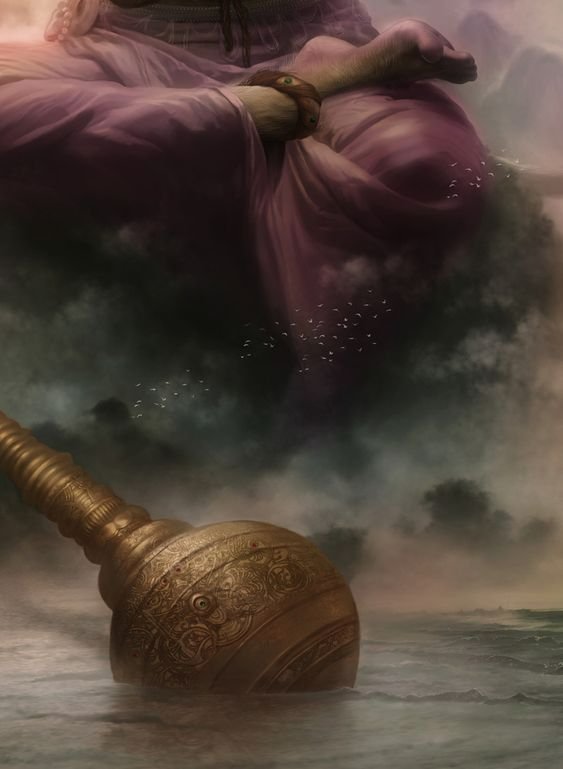 Moreover, the might of Hanumanji's character is vividly drawn in the next chapter on Vayuputra– starting from his birth, realization of inner potential in later life, smartness he possessed that make him an ideal character to be followed by every youth, sense of humor and application of bravery and intelligence as the situation demands. He gained the eight siddhis rightly within him and he himself was a very learned person that perfectly reflects from his advice on leadership qualities given to Angada.
Next, the author narrates to us the entire life-story of Ravana, starting his journey as Dashagreeva to be named Ravana till his insatiable lust and overwrought ego destroyed him- that also helps us to expose some of the popular notions about his character. For example, many attempts to portray him as a pious devotee of Lord Shiva who composed the Shiva Tandava Strotram are made several times and his sensibility in never touching Sita is largely talked about. However, the former case does not find any mention in Valmiki's Ramayana and it was out of hopelessness that he surrendered to Lord Shiva and not pure devotion, as popularly preached. Regarding the latter situation, we find lots of case histories from his initial days where he is found to force many women to satisfy his lust and it was due to the punishment for his misbehaviors that he was cursed to stay away from harming any woman any more physically. Ultimately, though advised to rectify his errors and character many times by various well-wishers the chapter highlights how his intense ego stored inside slowly took him toward devastation.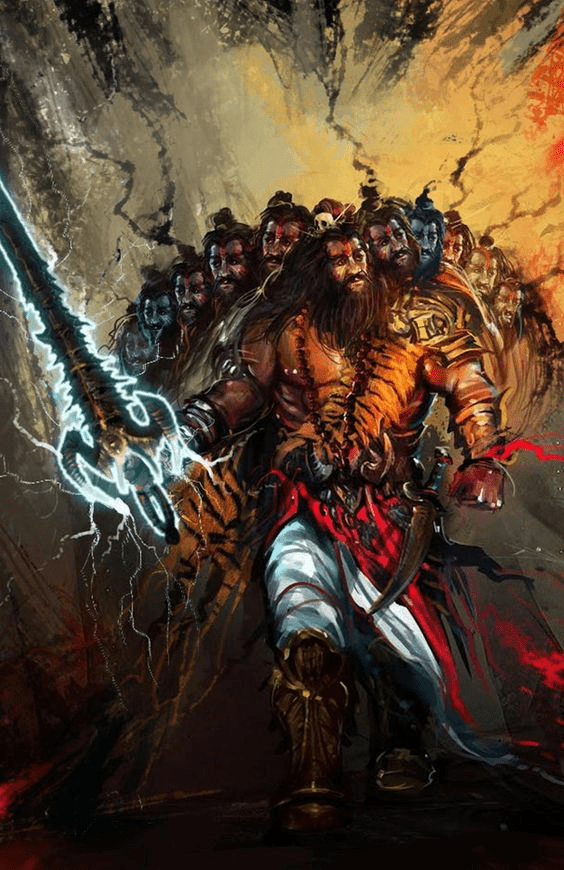 The subsequent two chapters are on Vibishana and Laxmana, where we can compare and contrast the actions of two brothers. Though the big difference lies in the fact that the first one went against his elder brother while the second one accompanied his brother wherever he went in every situation, however, it is their sense of duty towards greater truth and Dharma that places them in the same boat.
Till now the reader has already reached the end of the book and Ami Ganatra ends his writing by analyzing the great character of the main protagonist of the epic, i.e. Lord Rama. Providing minute details about his physical and psychological attributes, the writer shows us how he had surpassed everyone in the history of mankind with his multi-faceted personality- that extends from being the finest of warriors, ideal son, and husband to turning out to be the greatest king of all time. In the final chapter, we find what the most legendary and celebrated Rama Rajya has been like and what we can learn from it in this era, in terms of admiring and becoming the best of leaders, electing ministers, decision-making, project management, jurisdiction, administration, the welfare of people, security, discipline and accessibility.
Though a matter of debate and filled with lots of controversies on whether to be considered authentic or not, nonetheless, Ami Ganatra never forgets to mention the two specific events from Uttara Kanda in the epilogue section, pointing what, allegations are constantly made about truthfulness about Rama's character every time. Sambhuka's killing at the hand of Rama never indicated any sort of racism or casteism but it was his audacity to go beyond the laws of the natural order. Further, if we see through a subtle lens and logic, the final decision of Rama's life on sending Seeta away from his kingdom again makes him great in our eyes. Ami Ganatra proves these keeping three points in mind- choosing between role of a husband and king, understanding the short and long-term implications of his acts and effective move by a leader as their personal and social responsibilities clash.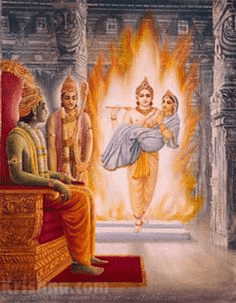 Thus, the whole fresh reading of Ramayana makes us fall in love with both Rama and Sita amid Valmiki's poetic beauty, once again, eradicating all the doubts persisting in our minds till date. Not only just two of them, but the book also provides a whole new perspective about every character and helps us realize by what principles our ancestors had lived, what was right versus wrong for them- all are wrapped up by Ami Ganatra in a simple and unbiased manner. I personally noted two important aspects that I never thought of before, which is the role of Agni or fire in building relationships in Hindu culture and appreciation of women and presence of their full empowerment in Hindu society- as evident from the character strength and admiration of every female character involved in the story. Ganatra also makes use of necessary references from Arthashastra and Bhagavat Gita in many steps to exemplify her position in explaining Rama's sense of morals and ethics. Again, one might suppose the whole life to be a lie, but it must be informed that we do not find any mention of gada or mace in the hands of Hanuman and other vanaras in the original version of Ramayana and instead they used to fight either bare handed or with nearby trees and stones. Also, nuances in the tale of Ahalya at different versions, mutual understanding between Rama and Seeta, slaying of Vali, Ravana's past history, Lakshmana's real EQ personality and the two stories explained in the Uttara Kanda are nicely handled with the same simplicity she unraveled the other parts of Ramayana. The golden age of Rama Rajya was never a myth and it is quite achievable as comprehended by the wisdom of our ancestors. If its ideals are brought forward, it would not be impossible for us to witness the same era of peace and knowledge, once again exhaling everywhere, for which every one of us is in search today.
Bibliography:
Ramayana unravelled: lesser known facets of Rishi Valmiki's epic, Author: Ganatra, Originally published: 28 July 2022
---
Center for Indic Studies is now on Telegram. For regular updates on Indic Varta, Indic Talks and Indic Courses at CIS, please subscribe to our telegram channel !
---