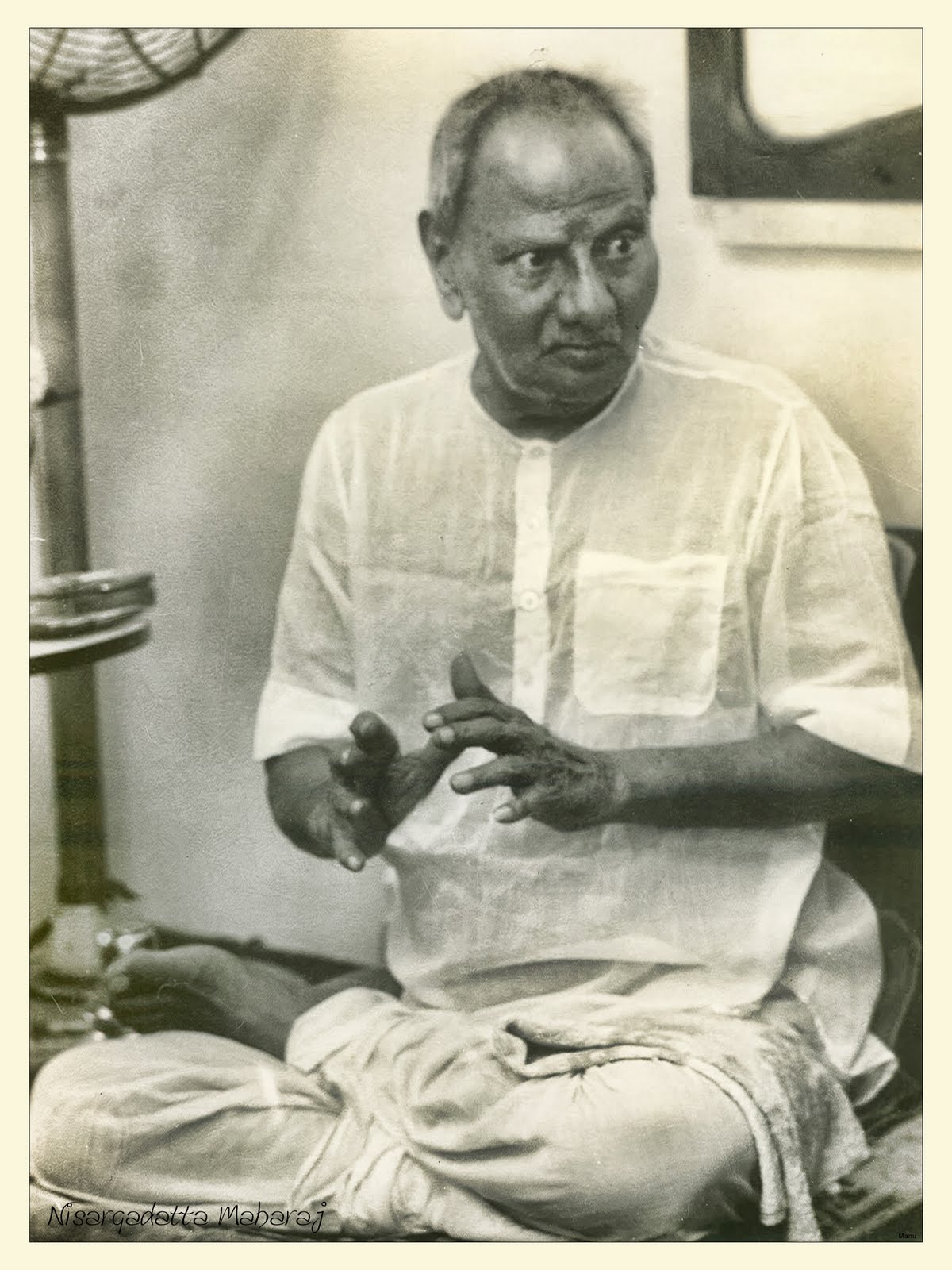 INTRODUCTION
Childhood, youth, marriage, progeny — Maruti lived the usual humdrum and eventless life of a common man till his middle age, with no inkling at all of the sainthood that was to follow. Among his friends during this period was one Yashwantrao Baagkar, who was a devotee of Sri Siddharameshwar Maharaj, a spiritual teacher of the Navnath Sampradaya, a sect of Hinduism. One evening Baagkar took Maruti to his Guru and that evening proved to be the turning point in his life. The Guru gave him a mantra and instructions in meditation. Early in his practice he started having visions and occasionally even fell into trances. Something exploded within him, as it were, giving birth to a cosmic consciousness, a sense of eternal life. The identity of Maruti, the petty shopkeeper, dissolved and the illuminating personality of Sri Nisargadatta emerged.
---
WHEN MAHARAJ MET HIS GURU
Q: What made you so dispassionate?
Maharaj: Nothing in particular. It so happened that I trusted my Guru. He told me I am nothing but my self and I believed him. Trusting him, I behaved accordingly and ceased caring for what was not me, nor mine.
Q: Kindly tell us how you realised.
Maharaj: I met my Guru when I was 34 and realised by 37
Q: What happened? What was the change?
Maharaj: Pleasure and pain lost their sway over me. I was free from desire and fear. I found myself full, needing nothing. I saw that in the ocean of pure awareness, on the surface of the universal consciousness, the numberless waves of the phenomenal worlds arise and subside beginninglessly and endlessly. As consciousness, they are all me. As events they are all mine. There is a mysterious power that looks after them. That power is awareness, Self, Life, God, whatever name you give it. It is the foundation, the ultimate support of all that is, just like gold is the basis for all gold jewellery. And it is so intimately ours! Abstract the name and shape from the jewellery and the gold becomes obvious. Be free of name and form and of the desires and fears they create, then what remains?
Q; Please tell me which road to self-realisation is the shortest.
Maharaj: No way is short or long, but some people are more in earnest and some are less. I can tell you about myself. I was a simple man, but I trusted my Guru. What he told me to do, I did. He told me to concentrate on 'I am' — I did. He told me that I am beyond all perceivables and conceivables – I believed. I gave him my heart and soul, my entire attention and the whole of my spare time (I had to work to keep my family alive). As a result of faith and earnest application, I realised my self (swarupa) within three years.
Q: How did you come to it?
Maharaj: By my trust in my Guru. He told me 'You alone are' and I did not doubt him. I was merely puzzling over it, until I realised that it is absolutely true.
Q: Am I permitted to ask you how did you go beyond the mind?
Maharaj: By the grace of my Guru.
Q: What shape his grace took?
Maharaj: He told me what is true.
Q: What did he tell you?
Maharaj: He told me I am the Supreme Reality
Q: What did you do about it?
Maharaj: I trusted him and remembered it.
Q: Is that all?
Maharaj: Yes, I remembered him; I remembered what he said
Q: Did you get your own realisation through effort or by the grace of your Guru?
Maharaj: His was the teaching and mine was the trust. My confidence in him made me accept his words as true, go deep into them, live them, and that is how I came to realise what I am. The Guru's person and words made me trust him and my trust made them fruitful.
Q: But can a Guru give realisation without words, without trust, just like this, without any preparation?
Maharaj: Yes, one can, but where is the taker? You see, I was so attuned to my Guru, so completely trusting him. there was so little of resistance in me, that it all happened easily and quickly. But not everybody is so fortunate. Laziness and restlessness often stand in the way and until they are seen and removed, the progress is slow. All those who have realised on the spot, by mere touch, look or thought, have been ripe for it. But such are very few. The majority needs some time for ripening. Sadhana is accelerated ripening.
Q: What makes one ripe? What is the ripening factor?
Maharaj: Earnestness of course, one must be really anxious. After all, the realised man is the most earnest man. Whatever he does, he does it completely, without limitations and reservations. Integrity will take you to reality.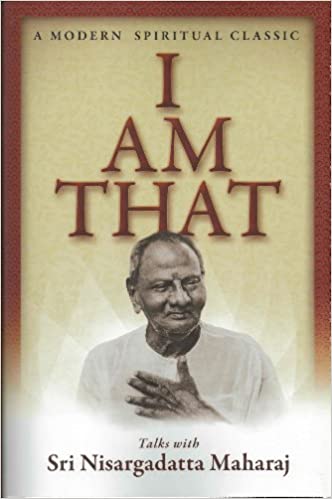 ---
'FINDING' A GURU
Q: How do I find a Guru whom I can trust?
Maharaj: Your own heart will tell you. There is no difficulty in finding a Guru, because the Guru is in search of you. The Guru is always ready; you are not ready. You have to be ready to learn; or you may meet your Guru and waste your chance by sheer inattentiveness and obstinacy. Take my example; there was nothing in me of much promise, but when I met my Guru, I listened, trusted and obeyed.
Q: Must I not examine the teacher before I put myself entirely into his hands?
Maharaj: By all means examine! But what can you find out? Only as he appears to you on your own level.
Q: I shall watch whether he is consistent, whether there is harmony between his life and his teaching.
Maharaj: You may find plenty of disharmony — so what? It proves nothing. Only motives matter. How will you know his motives?
Q: I should at least expect him to be a man of self-control who lives a righteous life.
Maharaj: Such you will find many — and of no use to you. A Guru can show the way back home, to your real self. What has this to do with the character, or temperament of the person he appears to be? Does he not clearly tell you that he is not the person? The only way you can judge is by the change in yourself when you are in his company. If you feel more at peace and happy, if you understand yourself with more than usual clarity and depth, it means you have met the right man. Take your time, but once you have made up your mind to trust him, trust him absolutely and follow every instruction fully and faithfully. It does not matter much if you do not accept him as your Guru and are satisfied with his company only. Satsang alone can also take you to your goal, provided it is unmixed and undisturbed. But once you accept somebody as your Guru, listen, remember and obey. Half-heartedness is a serious drawback and the cause of much self-created sorrow. The mistake is never the Guru's; it is always the obtuseness and cussedness of the discipline that is at fault."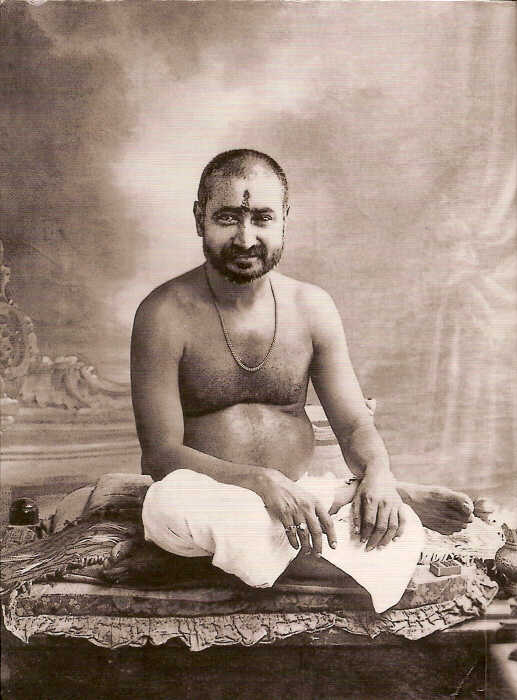 ---
'DEFINING' A GURU
"Who is the Guru, after all? He who knows the state in which there is neither the world nor the thought of it, he is the Supreme Teacher. To find him means to reach the state in which imagination is no longer taken for reality. Please, understand that the Guru stands for reality, for truth, for what is. He is a realist in the highest sense of the term. He cannot and shall not come to terms with the mind and its delusions. He comes to take you to the real; don't expect him to do anything else. The Guru you have in mind, one who gives you information and instructions, is not the real Guru.

The real Guru is he who knows the real, beyond the glamour of appearances. To him your questions about obedience and discipline do not make sense, for in his eyes the person you take yourself to be does not exist, your questions are about a non-existing person. What exists for you does not exist for him. What you take for granted, he denies absolutely. He wants you to see yourself as he sees you. Then you will not need a Guru to obey and follow, for you will obey and follow your own reality. realise that whatever you think yourself to be is just a stream of events; that while all happens, comes and goes, you alone are, the changeless among the changeful, the self evident among the inferred. Separate the observed from the observer and abandon false identifications."

– Nisargadatta Maharaj, I AM THAT
[…]
"I am now 74 years old. And yet I feel that I am an infant. I feel clearly that in spite of all the changes I am a child. My Guru told me: that child, which is you even now, is your real self (swarupa). Go back to that state of pure being, where the 'I am' is still in its purity before it got contaminated with 'this I am' or 'that I am'. Your burden is of false self-identifications — abandon them all. My Guru told me — 'Trust me. I tell you; you are divine. Take it as the absolute truth. Your joy is divine, your suffering is divine too. All comes from God. Remember it always. You are God, your will alone is done'. I did believe him and soon realised how wonderfully true and accurate were his words. I did not condition my mind by thinking: 'I am God, I am wonderful, I am beyond'. I simply followed his instruction which was to focus the mind on pure being 'I am', and stay in it. I used to sit for hours together, with, nothing but the 'I am' in my mind and soon peace and joy and a deep all-embracing love became my normal state. In it all disappeared — myself, my Guru, the life I lived, the world around me. Only peace remained and unfathomable silence."

– Nisargadatta Maharaj, I AM THAT
---
Source: Excerpts from I AM THAT: Talks with Nisargadatta Maharaj
---