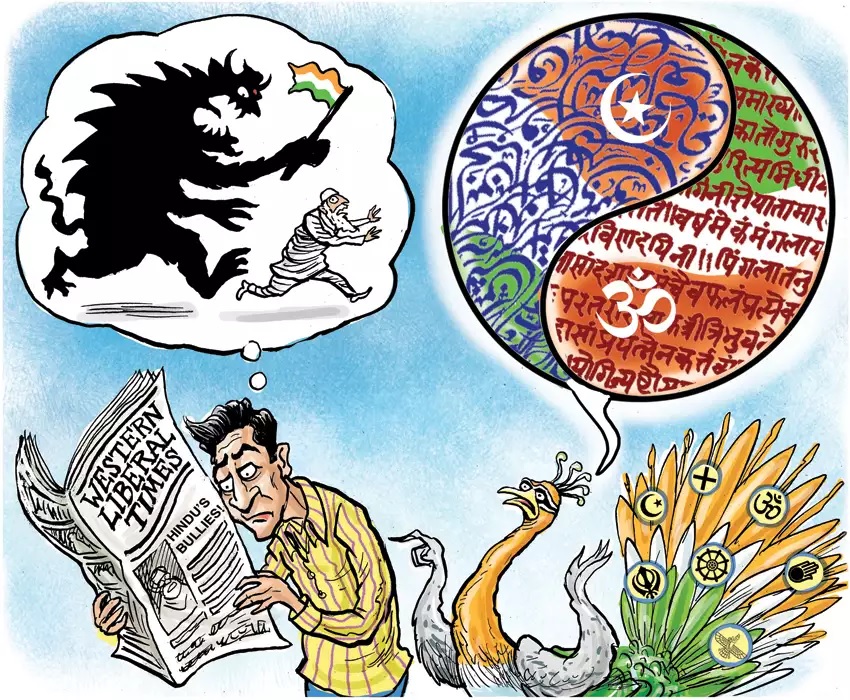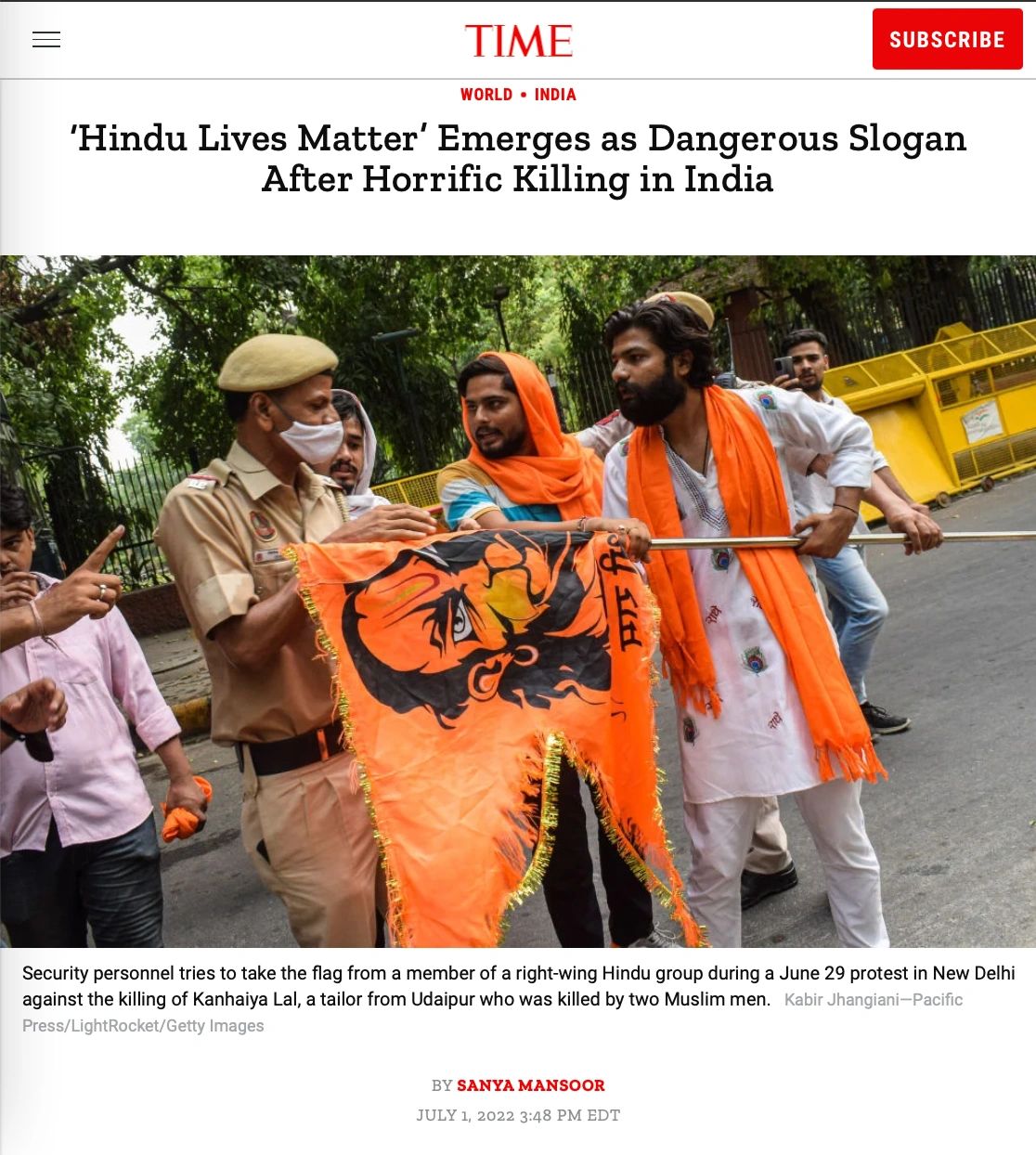 Honestly speaking, while Hindus are getting slapped (actually, slaughtered) left and right every single day, provoked constantly, Muslims are a light-year ahead – speedy & quick reports, vast network, top agencies, academia, massive resources, international funding, AND GLOBAL SYMPATHY – Hindus just started "discussing". The so-called Hindu majority of India is begging for lives. Global Hindus have no place. Hindus, literally, are walking with their head in their bags – any time, any moment, an unarmed Hindu will be attacked from the back by a coward and the head will be separated. A call for Global Hindu Genocide was whitewashed in a fraction of a second with a headline like that. Instead, reemphasized the narrative they are building that Hindus are extremists with a flood light. No political party or organization is protecting Hindus, globally. YET, the west seems to have another agenda.
CLASSIC TACTICS OF DEFLECTION AND DECEPTION
They know, that the narrative of "terrorism has no religion" is under threat – hence, revival is a must to protect Islam. Who do you blame in India? Hindus. All communists Marxists feminists Islamists riding together to HUMILIATE HINDUS on the international stage. And they have perfect matches to do so. Like Mansoor, Mehdi Hassan, Rana Ayyub, Khaled Beydoun, CJ Werleman, Mohammed Zubair, and countless ones with agendas.
Monkey God, Elephant God, Half Lion-Half Human God, Women God, Scary looking Goddess Kali, so many names, so many avatars…it is extremely confusing from the perspective of "One God – One Book" dogmatic and domineering point of view. Given Hinduism (Hindutva) is the oldest-living-surviving civilization of the world, it is, in a way, a dangerous challenge for the conversion-type religions or the ones who are known to call only their GOD the supreme truth – rests are heathen (Our God is Truth, Your God is False). How did Hinduism survive? Is it because it is decentralized with many different sects and panths (paths)? Hinduism, the idolators, pagans, heathens, infidels, kaffirs cannot be allowed to live. It is antithetical to western/European popular religions. Contrary to the biggest saviors of secularism, diversity, democracy, and all kinds of CATCHY phrases, unfortunately, the west is working with many agents to advance the antiHindu agenda. Let's look at a fresh report.
THE VERDICT BY WESTERN LIBERAL MEDIA
Have you noticed the recent report by Time, published by a Muslim reporter named Sanya Mansoor? They did not waste a moment twisting the facts and turning the narrative quickly to label Hindutva as extremists. Today "Hindu Lives Matter" has become a dangerous slogan for both Sanya Mansoor and Time. It is NOT just them. Let me walk you through the nexus…
FIRST, WHO IS SANYA MANSOOR?
According to Linkedin, Mansoor is a Kashmiri Muslim, who grew up in India, England, and Singapore. Graduated from Northwestern University, she is in the United States for the last 7 years. She had been to Chicago, Dallas, Austin, New Yorn, Boston, DC, and Miami. She is currently located in New York and is a journalist at Time. In the past, she worked with Dallas Morning News, The Texas Tribune, Miami Herald, and Boston Globe. She interned with The Christian Science Monitor, National Daily Newspaper in South Africa, also been involved in a documentary about parkour in Kashmir, which was published in Atlantic. She writes on politics, investigative, breaking news, and enterprise stories, encompassing local, state, national, and international issues. She is also a stabile investigative reporting fellow at Columbia University's Graduate School of Journalism.
Frankly, I had to look up the word Stabile. Evidently, the Stabile investigative program turns out top-caliber graduates able to thrive in today's fast-changing media environment. Stabile alumni are currently doing watchdog reporting for leading news organizations, including The New York Times, The Wall Street Journal, ProPublica, 60 Minutes, Vice, and Buzzfeed. Oooooo, that's impressive.
At a glance, you will notice an accomplished Kashmiri Muslim thriving in the United States who is great at her job. In just 7 years – she was able to successfully turn Hindus into mere extremists. That is what I call – BRILLIANT.
Notice, the platter of large liberal media organizations. Under the banner of human rights, public integrity, and democracy, watchdogs are major left-wing organizations. A genuine question, is there any media organization that is balanced and is willing to report the other side of the story?
RECENT EPISODES OF HINDU BEHEADINGS BY MUSLIMS
A poor Hindu tailor, Kanhaiya Lal Teli was heinously slaughtered in broad daylight by two Muslims, Mohammed Riyaz Attari and Mohammed Ghouse. Since the gruesome beheading (killed by slitting his throat), it has come to light that Riyaz had traveled to Pakistan for terror training. His car number plate was 2611 – an inspiration for the 26th November 2008 Mumbai Taj Mahal Hotel bombing by Pakistani terrorist Mohammed Ajmal Kasab who had carried out the terror act, acting as a Hindu to frame Hindus as extremists. She begins with the "killing of a Hindu tailor by two Muslim men in Rajasthan, India has sparked chilling calls for revenge against the country's already marginalized Muslim population". She then quickly moves her target to Hindu Nationalist Supporters of Prime Minister Narendra Modi. The Muslim terrorists of Kanhaiya Lal posted a video expressing their reason to avenge suspended-bjp-spokesperson Nupur Sharma's remarks written in Hadith about Prophet Mohammed – which has been determined as truth by several scholars of the Islamic world. Eternal Hindu-haters who are the worst offenders of Hinduism, Hindu Gods, and Hindus do easily get offended. It also has come to light that, one week before another #HinduBeheading was carried out for the same reason in Maharastra. Umesh Kolhe, a pharmacist, was beheaded by Muslims who had shared an "I support Nupur Sharma" post on a WhatsApp group to his close Muslim friends. They were all offended by his support for Nupur Sharma, so they orchestrated to take his life too. A video of Call for Hindu Slaughter was made by Maulana Mufti Nadeem went viral while police-force guarded him about a month ago. Mufti was arrested one day ago and released on bail within 24 hours. Gazillion of such hypocritic examples available of how Muslims have insulted Hindu Gods and never even arrested – just check one here.
"They can offend us, mock our Gods, intimidate us, threaten us. But, we cannot defend ourselves. That is the message. And the message is CLEAR"
MANSOOR AND TIME'S PROPAGANDA
Mansoor and Time used a few names to concretize their argument to make a case to establish that Hindu Lives Matter is a dangerous and troubling slogan.
One of them was Mohan Dutta, a professor at Massey University in New Zealand. According to Dutta, Hindu Lives Matter is a message for the call for Muslim Genocide. Who is Mohan Dutta? A self-proclaimed leftist, who was inspired by his communist "trade union leader uncle" at the age of 3. He was eager to paint a hammer and sickle on a red flag and it was an amazing childhood memory that shaped his ideology.
Angana Chatterji, "Scholar" at the University of California, Berkeley, suggested Hindus are now going to target unarmed ordinary Muslims. Who is Angana Chatterji? A leftist known for supporting Kashmir Muslim Separatists is a member of many groups, some of them are connected to violent terrorist groups (even by the standard of the FBI). Note Chatterji's connection to CAG, CAC, FOIL, FOSA, and FeTNA (LTTE). Chatterji is also co-chair of Project on Armed Conflict Resolution and People's Rights, Center for Social Sector Leadership-Haas, UC-Berkeley. She is a self-proclaimed feminist.
"Just because two members of that community commit this type of crime you cannot paint the entire community with the same brush," said Dhirendra Jha, a political journalist. Who is Dhirendra Jha? Connected to The Caravan, Scroll, News Laundry, popular leftwing Islamist-infiltrated Marxist antiHindu organizations hiding under "journalism" in India who regularly speaks against Hindus and written extensively as well.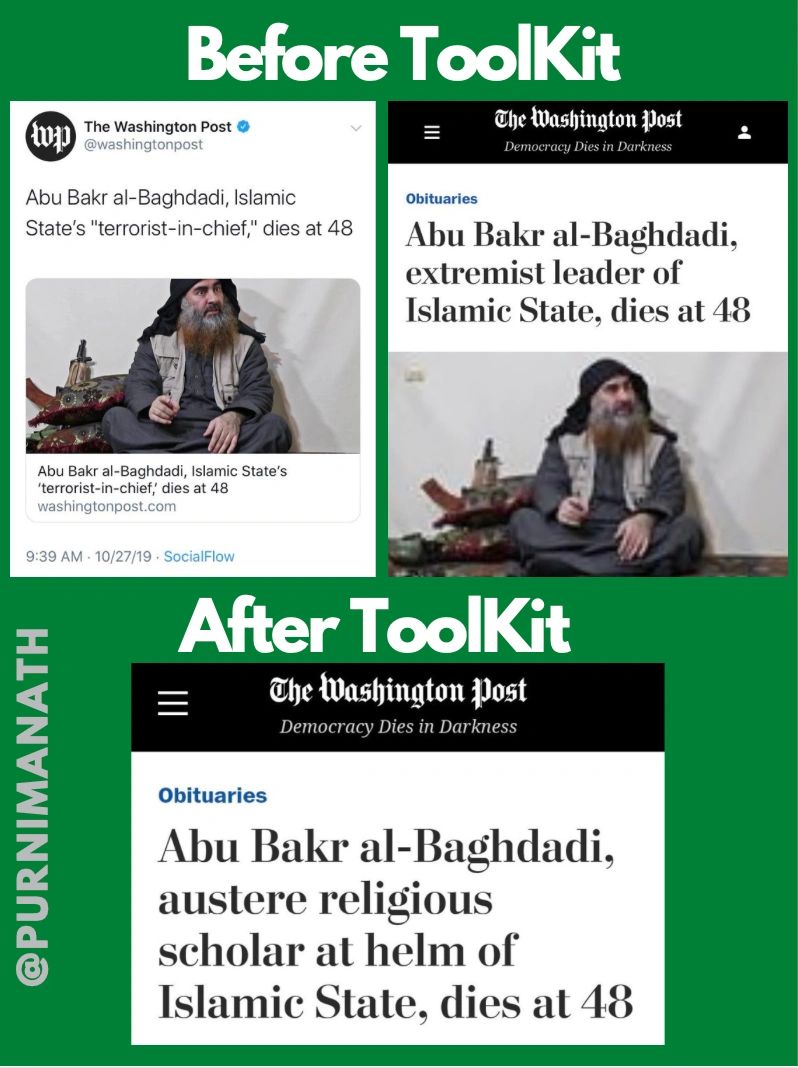 WESTERN LIBERAL MEDIA IS NOT JUST ANTIHINDU, BUT ISLAMOABSOLUTISTS
There is a pattern – Western media is not just antiHindu or antiIndia. They are visibly anti-American and anti-Nationalists and anti-Patriots. Let me show you a couple of examples. Cultural Marxism riding with Islamism is a phenomenon, that is seen in all free societies today, such as India, America, UK, Sweden, and so on. The war against the majority of these "free countries" is on and visible.
For example, notice, how an ISIS Islamic terrorist leader Abu Bakr Al-Baghdadi was painted as an austere religious scholar by Jeff Bezo's Washington post. Note that Washington Post changed its label after it described Abu Bakr as "terrorist-in-chief" and "extremist leader of Islamic State" – I suppose offending "customers" was not a good choice?
Do you know how the Washington post labeled Iranian Militant Qasem Soleimani? "Iran's 'most revered military leader" and "prominent Iranian Nuclear Scientist". Journalism 101, hands down.
AN UNCANNY PATTERN EMERGES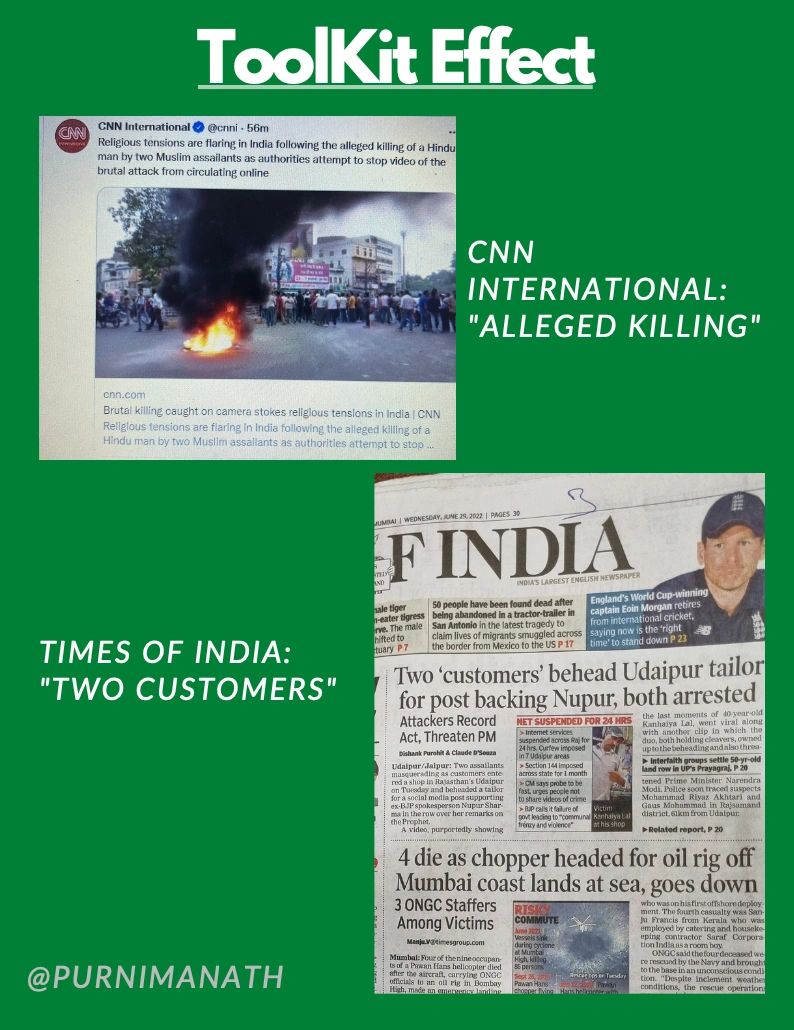 A desperate attempt by the Times of India to paint the terrorists of the pre-meditated act of Islamic Terrorism with "customers" as if innocent, poor, oppressed Muslims are being genocided by Hindus. Written by a Hindu-named Marxist and a Christian. CNN international goes one more step further – for them it was an "alleged killing". Butchers themselves uploaded the video and boasted about the killing of a Hindu man and they even reasoned why they have committed such a crime – which was not a crime for them. They saved and protected someone in 7th heaven, the peaceful one.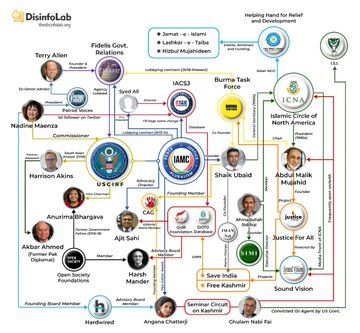 FREEDOM OF PRESS AND GLOBAL ISLAM
They do not stop from sprinkling salt on our wounds. It is constant & consistent. EVERY DAY. One of the prominent Muslim journalists from India has bagged the "prestigious" Press Freedom award in National Press Club of Washington DC by specifically speaking about the Muslim Genocide, PM Narendra Modi, Hindu Nationalist supporters, BJP of India. @PressClubDC taunted the Indian Government and demanded her Twitter account be restored. "Although the Aubuchon Award will not be formally conveyed until the end of the year, The Club wanted to announce its decision today to draw attention to Ms. Ayyub's case and encourage others to support her at this time.", National Press Club asserted. Freedom of Expression, her freedom, and her freedom to publish are all demands of @PressClubDC – underscoring alleged threats to Ayyub. @PressClubDC did not stop there, they are sure, that the Indian government froze her assets based on dubious charges against her even though she was scamming her donors with millions of dollars. A direct attack on the elected government of a sovereign country, that too the biggest democracy in the world – I am amazed at the audacity of these organizations.
USCIRF AND ISLAM
Add insult to injury to this entire episode. USCIRF's (United States Council on International Religious Freedom) push for antiHindu antiIndia agenda for designating India as CPC (Country of Particular Agenda). Extremely insensitive and poor timing by USCIRF, given the fact that the existence and agendas of USCIRF are truly questionable. Notice the web of well-orchestrated influential Islamic operations targeting Hindus and India, exposed by @disinfolab. Additionally, pay attention to the below timeline that will shed some light.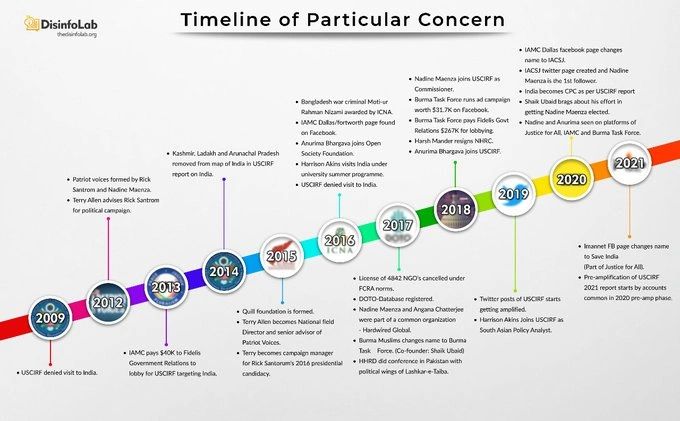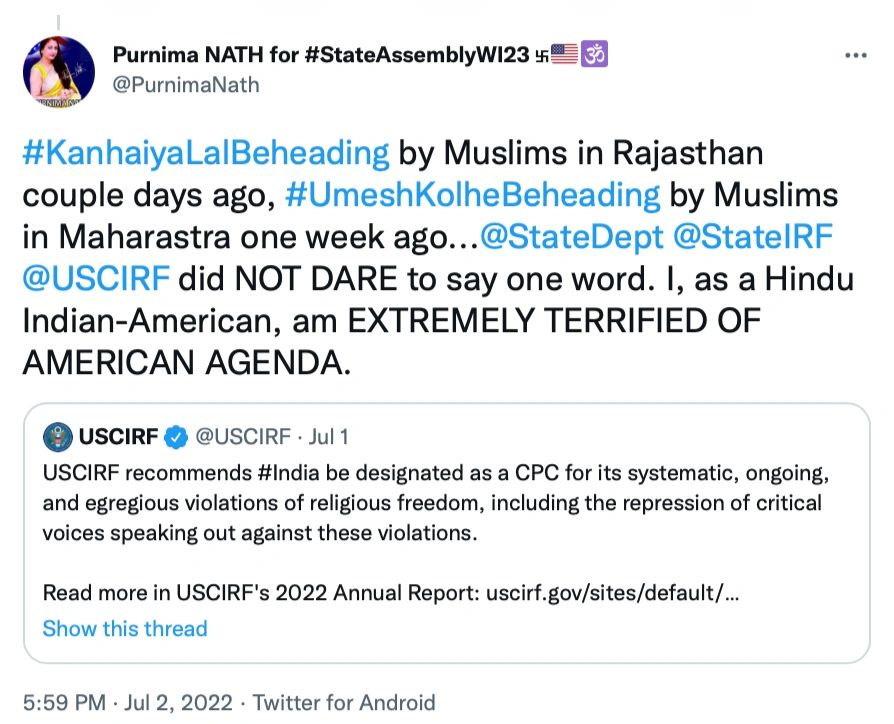 NUPUR SHARMA CASE, KANHAIYA LAL BEHEADING, AND THE INDIAN JUSTICE SYSTEM
Since these incidents brought massive outrage on social media and the ground, many DISTURBING revelations are happening, daily. Fanning the flame, an unexpected victim-shaming and dog-whistling comment from Justice Suryakant and Justice J B Pardiwala of India's highest court, "Supreme Court", blaming #NupurSharma for the beheadings of the Hindus caused a massive outburst raising serious questions about the entire "justice system" and selection process of Justice. A verdict without a trial. Milords extended a red carpet and handed out a clean chit to the Muslim community to commit and justify such brutal crimes. This is the "Indian Justice System" Hindus had to live with for 75 years – and they touted democracy, secularism, and diversity. Are they all sold out? Interestingly, Justice Suryakant even worked to beef up his security, while mocking threats to Nupur Sharma, IRONY. Darkest days looming ahead for humanity and the Hindus. A GLOBAL HINDU GENOCIDE HAS BEEN LEGITIMIZED BY INDIAN SUPREME COURT.
Among everything, I noticed ONE Dutch politician, Geert Wilders of the Party of Freedom, showed overwhelming public support towards Hindus, and the land of Hindus, while the entire global Islamic nexus is formulating the next conspiracy.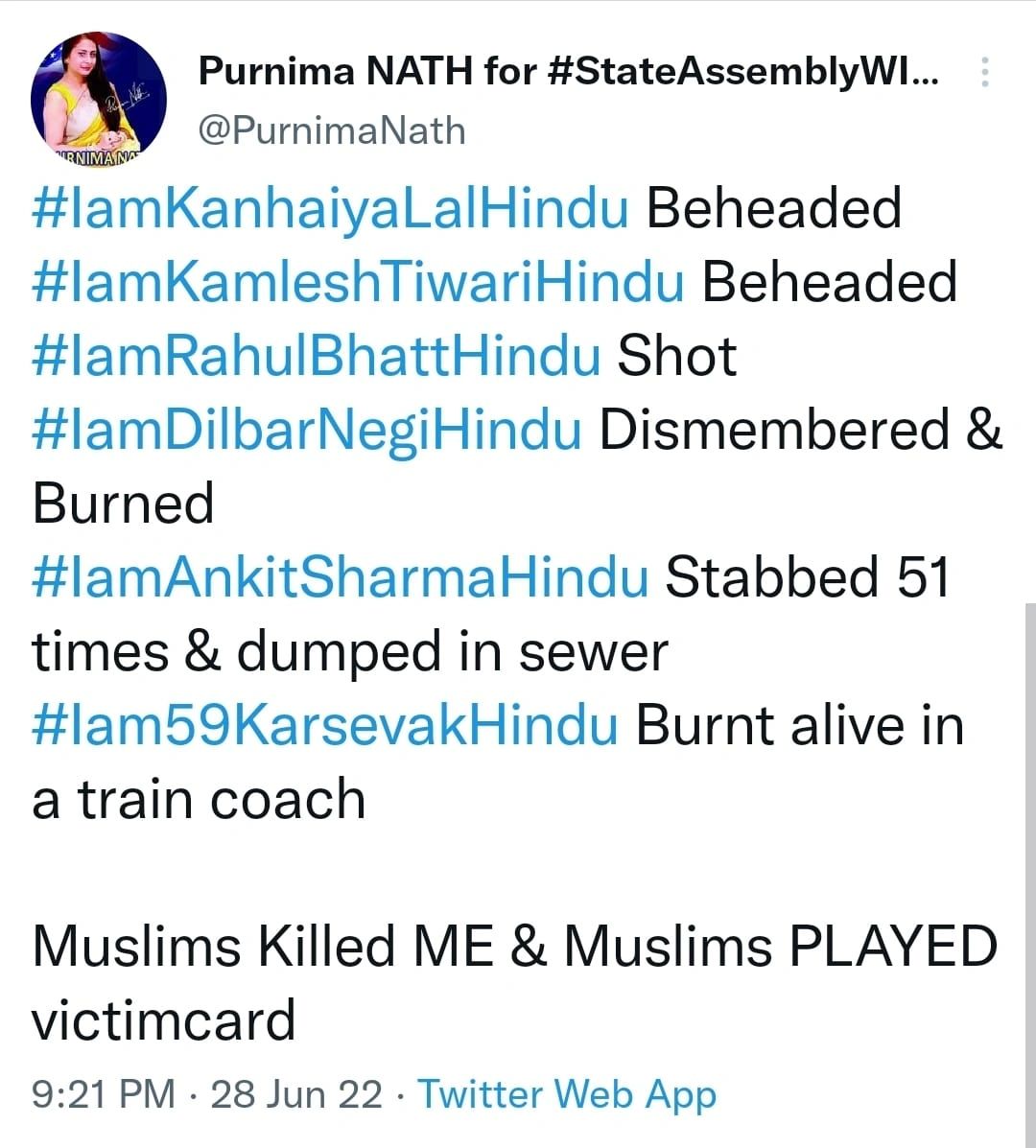 WHO IS RESPONSIBLE FOR THE EVENTS BEFORE NUPUR SHARMA'S DEFENCE COMMENT?
So, who must be blamed for Kamlesh Tiwari's beheading? Ankit Saxena stabbing and beheading? Rinku Sharma stabbing? #IamNikitaTomar #IamRupeshPandey #IamRinkuSharma #IamGirijaTikoo #IamBKGanjoo I die everyday. Within a day everyone forgets my name. It's a normal day for the world. I do NOT have the right to life. I do NOT get protection from the government. I do NOT have a country. #IamHindu
I am Hindu. I do NOT have the right to life. I do NOT get protection from the government. I do NOT have a country. My pain is NOT heard by anyone. My existence is to be tolerant so other supremacists can mock my religion, my faith, my beliefs, my heritage, my culture; ERASE MY HISTORY, HIDE TRUTH, STEAL MY LAND, kill me, lecture me, intimidate me.
I am HINDU. #IamHindu
CONCLUSION
The deepest conspiracy of anti-India forces must not be taken lightly. Every Hindu's life is connected to the LAND OF BHARAT, that is India.
"Muslims have a global voice. Hindus do NOT. Muslims have global sympathy. Hindus do NOT. Muslims have global resources. Hindus do NOT. I have not seen one global media organization which may have given "Hindus" the opportunity to counter these blatant allegations and intimidations against Hindus."
As a Hindu, and Indian-American, I feel anyone like me, who speaks up against propaganda, our lives are in danger, even in the United States. Whatever happens, will happen. I am not going to be silenced. I will continue to speak up, stand up, and continue to raise my voice against bully, hypocrisy, injustice, and corruption. AND
HINDU LIVES MATTER – WE HINDUS ARE THE ONLY-LIVING-SURVIVING-CONTINUOUS CIVILIZATION, HOW MANY WILL YOU KILL? Hindus do not play victim cards – we tolerated "you" thus far. NO MORE. TRY ERASING US!
---
Center for Indic Studies is now on Telegram. For regular updates on Indic Varta, Indic Talks and Indic Courses at CIS, please subscribe to our telegram channel !
---