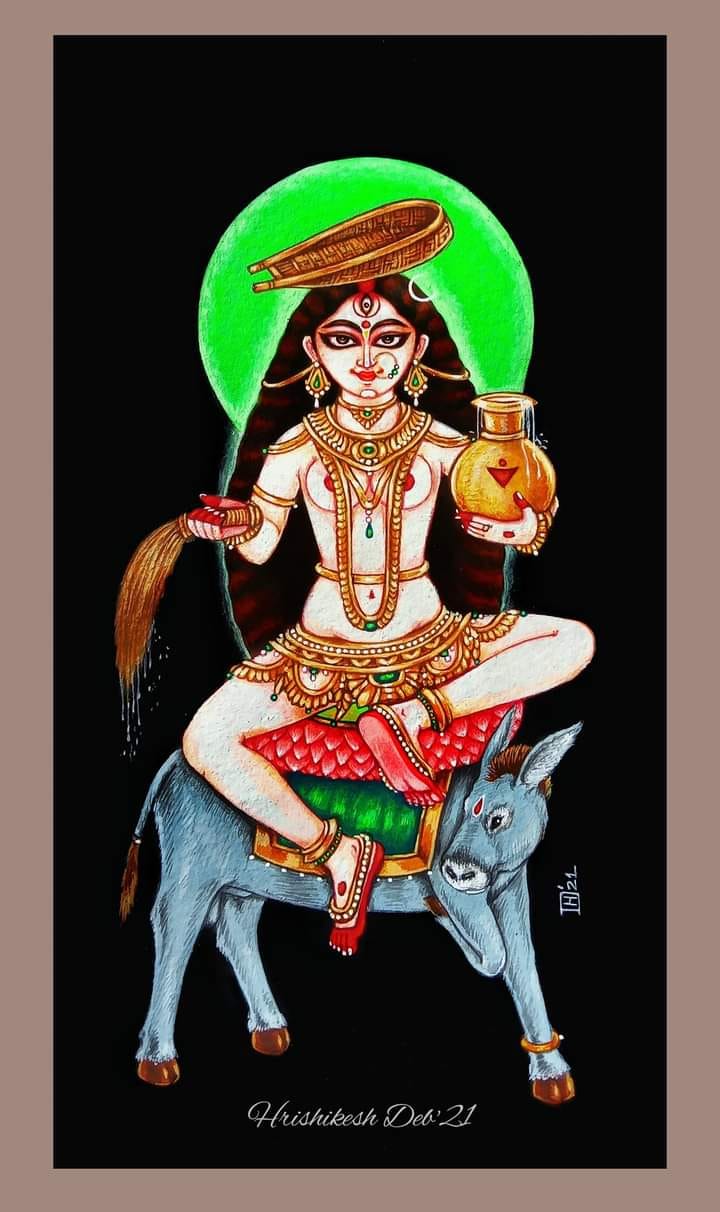 The Hindus have been already practicing inoculation in a sophisticated and systematic approach from ancient times. Their treatment process to eradicate the outbreak of pandemic was simple and was successfully performed by various community of representatives and Brahmins appointed every year from institutions of Varanasi, Vrindavan and Prayag, especially in the month of spring and summer. Besides, the community of inoculators also included local cultivators, low-ranking Brahmins, garland makers and barbers from various parts of India. Having their own traditional instruments and tools in hand, the experts used pieces of cotton with variolous materials moistened with Gangajal over the wounds of tiny incisions carefully made in a small circle on the patient's body. Notably, these medical practitioners were found to recite the sacred mantra of Sheetala Devi or Gutti ki Thakurain at the same time, during this entire operation, that was itself based on scientific principles and researches inherited from their forefather's custom.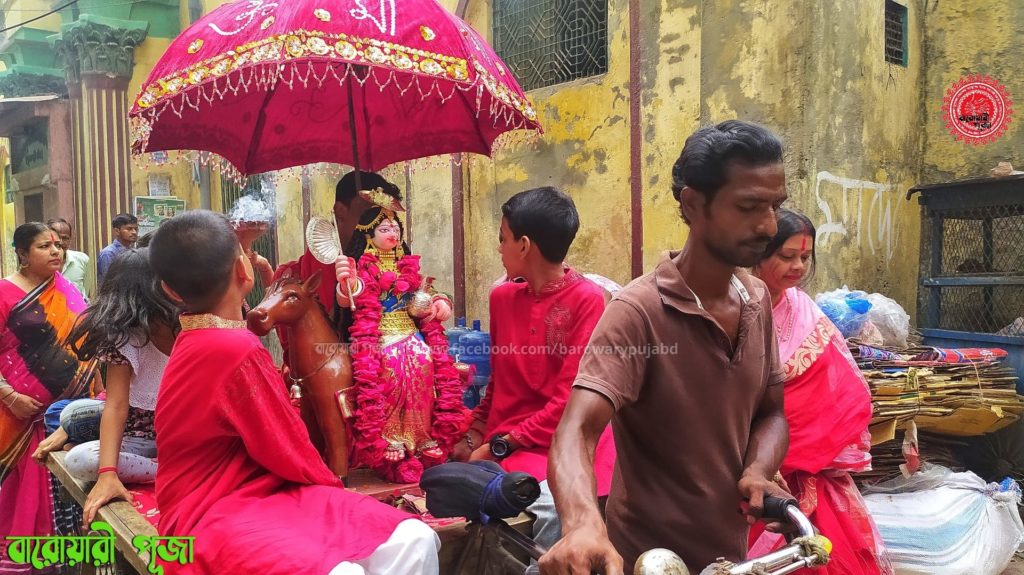 The Sheetala Ashtami is observed in India exactly eight days after the colorful festival of Holi. The spring season is not only considered as a manifestation of love in nature but unfortunately, it also comes with the germs of various diseases. In the earlier days, village after village used to get devastated by the strike of smallpox, measles and cholera. The common people of rural India had immense faith in Sheetala mother to prevent the waves of epidemic. The name of the Goddess, bringing steadiness, freshness with happiness in life during deadly situations, derives its name from the Sanskrit root- "Sheetal" meaning cold and calm.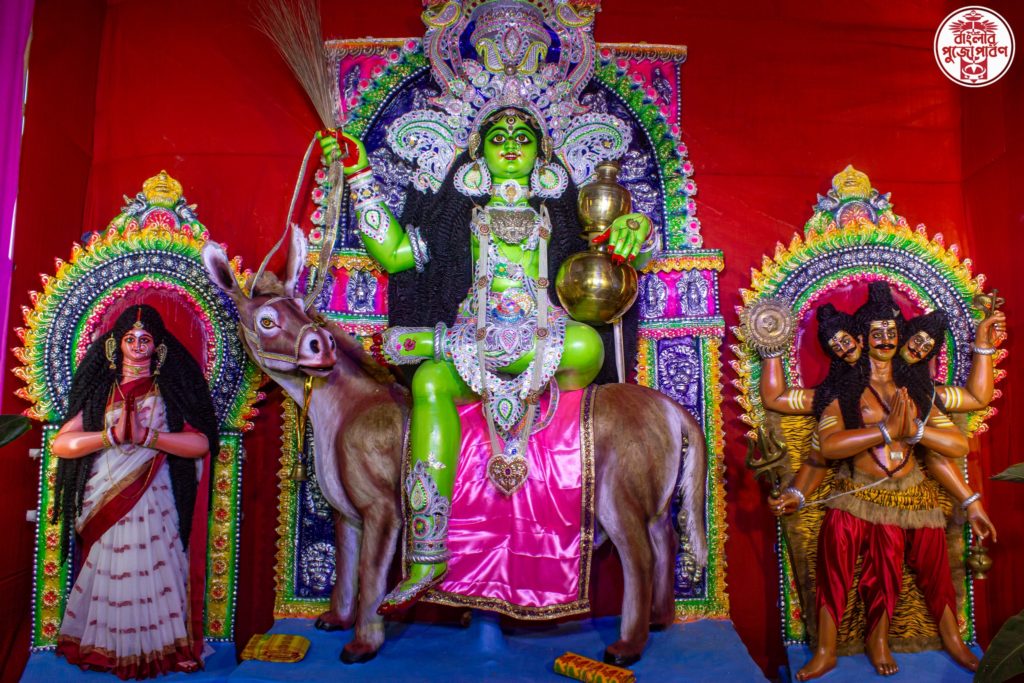 The idol of mother Sheetala displays her sitting on a donkey, holding pots and brooms in her two hands. The Puja is performed only by females and mothers do fasting to keep their children away from any harm. The whole Hindu family is found hale and hearty by the grace of the mother with no shortage of nourishment and money. As per one of our Puranas, once there was a monster named Jvarasura and wherever he visited, the children developed a high fever. To destroy the fear of this demon in Martyaloka, Lord Shiva took the form of Bhairava and mother Parvati appeared as Shitala. Mahadev checked the attack of Asura, and enslaving the demon and turning him into a donkey, Mata Parvati spread cold water on earth and swept away the germs with a broom.
This year, the Puja is on March 25 and the Shubh Muhurta starts from March 24 at 12:09 pm and ends on March 25, 2022, at 10:04 pm in this Krishna Paksha and month of Chaitra. Also known as Basoda Puja, Sheetala Mata is widely worshipped with great zeal and enthusiasm in rural areas of Uttar Pradesh, Rajasthan, Gujrat and West Bengal, and in the name of Goddess Mariamman or Goddess Poleramma in southern regions like Andhra Pradesh and Karnataka. Many locals of Haryana call her Kripi, the wife of Dronacharya.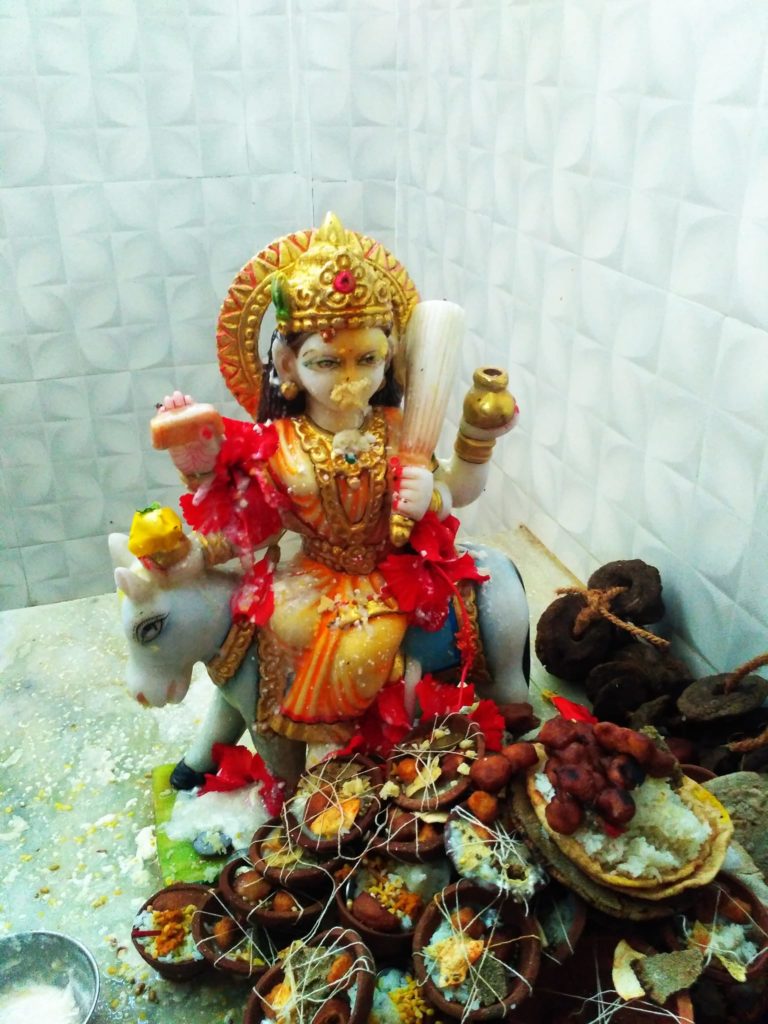 The families never light any fire in the kitchen and consume food prepared in advance, a day before. Devotees get up early in the morning and after taking a bath, they visit the temple of Sheetala Mata. Further, they make diya or lamp made of wheat flour dough and do not light it, perform aarti, chant mantras, seek blessings of elders, offer flowers and the stale food to the Goddess, prepare thalis with Naivaidya and eat it throughout the day as Prasad, also sharing with the poor and needy.
Mantra to chant during the worship:
Vandehan Shitala Devi Rasabhasthandigambaram
Maarjaneekalashopetaan Soorpaalankrtamastakaam
References:
Shitala: How India Enabled Vaccination by Mitra Desai (Author)
https://www.prokerala.com/festivals/sheetala-ashtami.html
https://pujayagna.com/blogs/hindu-festivals/sheetala-ashtami
https://www.rudraksha-ratna.com/articles/sheetla-ashtami
https://www.facebook.com/photo/?fbid=4746236558820038&set=a.725583237552077
https://www.facebook.com/photo/?fbid=465188664821508&set=a.117998919540486
https://www.facebook.com/BanglarUtsav/photos/a.274435679428494/1836251603246886/
https://www.facebook.com/dhakarpuja20/photos/pcb.484839556698415/484839346698436/
---
Center for Indic Studies is now on Telegram. For regular updates on Indic Varta, Indic Talks and Indic Courses at CIS, please subscribe to our telegram channel !
---