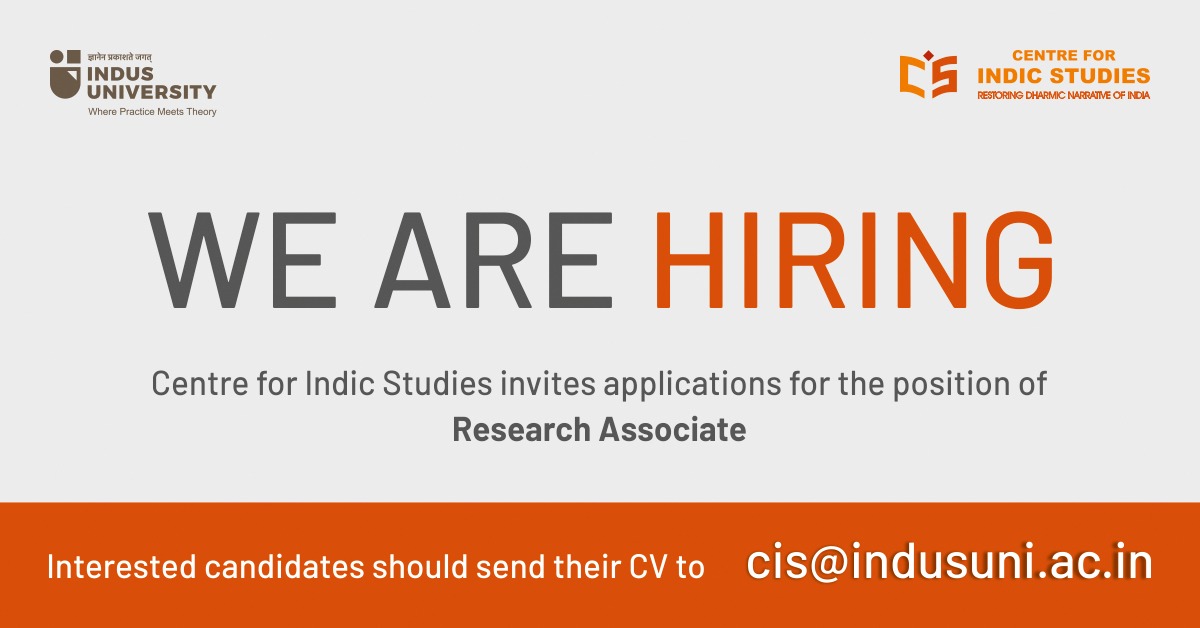 Centre for Indic Studies (CIS) invites applications for the position of Research Associate.
CIS is a research department of Indus University located in Ahmedabad, India. The department publishes high quality content and courses on a wide range of subjects related to Indic civilisation. The department supports research in various ways and strongly encourages applications from candidates who are passionate about Indic causes and would like to work for serving and strengthening Sanatana Dharma.
The candidates will be required to demonstrate:
Decent knowledge of Indian Knowledge Systems and civilizational issues along with a good understanding of contemporary political, cultural and social issues.
Proficiency in English and Hindi.
Basic technical knowledge of computer applications particularly Microsoft Office and familiarity with content management systems like WordPress.
The job responsibilities will include:
Creating and managing content for online Indic Courses which includes researching, editing the course material and preparing write ups.
Writing introductions, summaries, reviews on books, talks, articles, courses related to various activities of CIS
Researching and delivering lectures on various topics of Indian Knowledge System.
Preparing newsletter of various activities of CIS. Promoting the activities of CIS on social media platforms.
How to Apply: Interested candidates should send their CV to cis@indusuni.ac.in
Location: Ahmedabad (remote work is also possible)
Salary: Commensurate with industry norms.