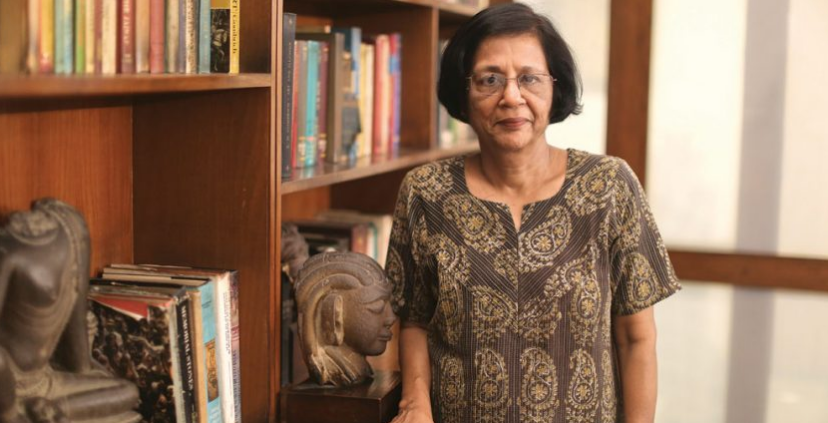 Padma Shri 2020 winner, Dr. Meenakshi Jain, recommends the following essential books on Indian history. Dr. Meenakshi Jain is India's finest historians who is currently working to bring the truth about many important aspects of Indian history. Her works on Sati and Ayodhya are recognized as fundamental works all over the world.
1. South India and her Muhammadan Invaders – Krishnaswami Aiyangar
This book is a forgotten gem about the Islamic invasions in South India. Many assume that just because there are still ancient temples in south India, Islamic invasions never happened there or were next to nil. However, this wonderful work tells us how South India was devastated, particularly under the Delhi Sultanate. The short book discusses the invasions under the Khaljis, Tughlaqs and many others like Malik Kafur. Reading it you will get to know how the temples in south India were destroyed, how Brahmins and cows were killed and how ancient institutions were annihilated.
2. Hindu Temples: What Happened to Them – Sita Ram Goel
Very few need introduction to this particular work. Suffice to say that not only does this great and unprecedented work gives a list of the most famous Hindu temples destroyed and by whom, it also discusses the mentality and the psyche which goes behind the destruction of such high quality of art. Hindus created these temples over generations with great care and sacrifice and Muslim invaders destroyed them in one go. What explains such psyche? This is one book to read before you die!
3. The Idol Thief – S. Vijay Kumar
This book tells the heart-rending story of how India's greatest wealth, the icons of its deities in stone, in bronze and in other mediums are being not just looted but shamelessly and brazenly plundered to be sold on black market all over the world. An apathetic and anti-Hindu state is doing nothing and somewhere is even involved in this nightmare. S. Vijay Kumar exhorts us to give it a thought – it is with utmost care that our ancestors created them and with the greatest sacrifice they saved these icons, but not so that the future generations can steal and sell them on black market.
Modhera – Kirit Mankodi
Prof Kirit Mankodi, a retired archaeology teacher has been working to trace stolen sculptures from India for over a decade now. After his retirement as professor of archaeology at Deccan College, Pune, in 2005, Prof Mankodi took it upon himself to trace treasures stolen from India and sold abroad. His book 'Modhera' analyzes the wonderful temple complex dedicated to Lord Surya at Modhera, near Ahmedabad. This temple complex is now much destroyed by Islamic invaders but its former glory still reigns and it is richly decorated with some of the greatest sculptural pieces in north India. It is also replete with a temple tank which is even more splendorous with many mini-shrines all around.
5. Somnatha: The Shrine Eternal – K M Munshi
K M Munshi is now a forgotten name, but he was one of the greatest statesmen of India, when we became independent. Not only a statesmen, he was also one of the tallest of scholars of his time. His sympathies for the resurrection of the great Hindu civilization were not hidden and that is why he was sidelined by socialist Nehru. He was instrumental in the restoration of the great shrine of Somnatha. In this now forgotten work, he tells the history of the shrine in exquisite detail, and he does not mince words about the destruction of the temple. He also explains the motivation behind the destruction of the Hindu temples and Hindu heritage at the hands of the Muslim invaders.