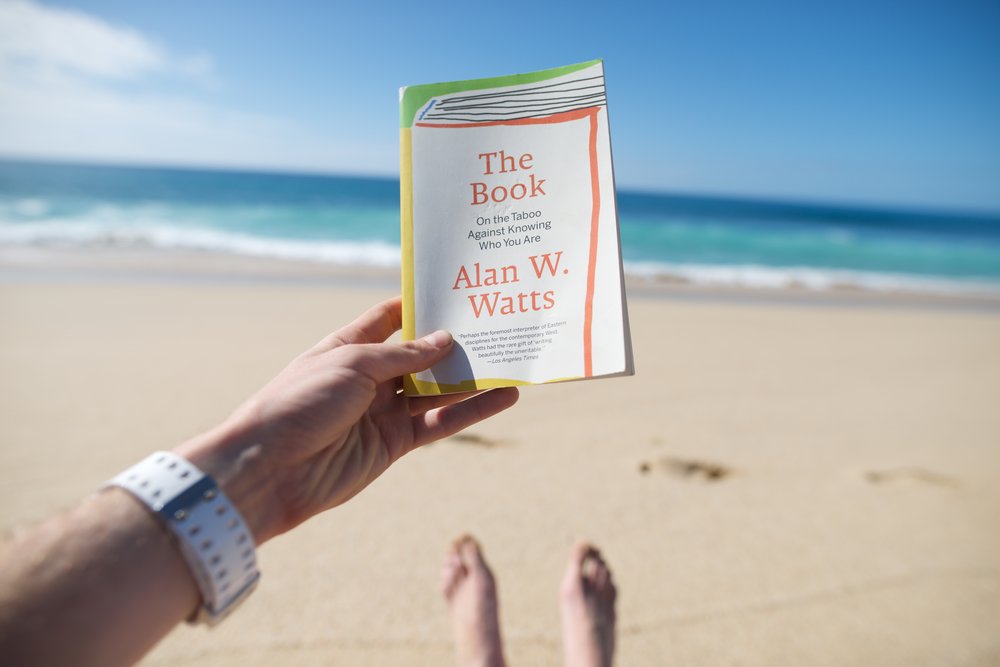 We do not need a new religion or a new bible. We need a new experience—a new feeling of what it is to be "I." The lowdown (which is, of course, the secret and profound view) on life is that our normal sensation of self is a hoax or, at best, a temporary role that we are playing, or have been conned into playing—with our own tacit consent, just as every hypnotized person is basically willing to be hypnotized.
The most strongly enforced of all known taboos is the taboo against knowing who or what you really are behind the mask of your apparently separate, independent, and isolated ego. I am not thinking of Freud's barbarous Id or Unconscious as the actual reality behind the façade of personality. Freud, as we shall see, was under the influence of a nineteenth-century fashion called "reductionism," a curious need to put down human culture and intelligence by calling it a fluky by-product of blind and irrational forces. They worked very hard, then, to prove that grapes can grow on thornbushes.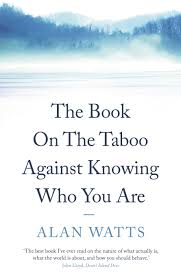 As is so often the way, what we have suppressed and overlooked is something startlingly obvious. The difficulty is that it is so obvious and basic that one can hardly find the words for it. The Germans call it a Hintergedanke, an apprehension lying tacitly in the back of our minds which we cannot easily admit, even to ourselves. The sensation of "I" as a lonely and isolated center of being is so powerful and commonsensical, and so fundamental to our modes of speech and thought, to our laws and social institutions, that we cannot experience selfhood except as something superficial in the scheme of the universe.
I seem to be a brief light that flashes but once in all the aeons of time—a rare, complicated, and all-too-delicate organism on the fringe of biological evolution, where the wave of life bursts into individual, sparkling, and multicolored drops that gleam for a moment only to vanish forever. Under such conditioning it seems impossible and even absurd to realize that myself does not reside in the drop alone, but in the whole surge of energy which ranges from the galaxies to the nuclear fields in my body. At this level of existence "I" am immeasurably old; my forms are infinite and their comings and goings are simply the pulses or vibrations of a single and eternal flow of energy.
The difficulty in realizing this to be so is that conceptual thinking cannot grasp it. It is as if the eyes were trying to look at themselves directly, or as if one were trying to describe the color of a mirror in terms of colors reflected in the mirror. Just as sight is something more than all things seen, the foundation or "ground" of our existence and our awareness cannot be understood in terms of things that are known. We are forced, therefore, to speak of it through myth—that is, through special metaphors, analogies, and images which say what it is like as distinct from what it is. At one extreme of its meaning, "myth" is fable, falsehood, or superstition. But at another, "myth" is a useful and fruitful image by which we make sense of life in somewhat the same way that we can explain electrical forces by comparing them with the behavior of water or air. Yet "myth," in this second sense, is not to be taken literally, just as electricity is not to be confused with air or water. Thus in using myth one must take care not to confuse image with fact, which would be like climbing up the signpost instead of following the road.
Myth, then, is the form in which I try to answer when children ask me those fundamental metaphysical questions which come so readily to their minds: "Where did the world come from?" "Why did God make the world?" "Where was I before I was born?" "Where do people go when they die?" Again and again I have found that they seem to be satisfied with a simple and very ancient story, which goes something like this:
"There was never a time when the world began, because it goes round and round like a circle, and there is no place on a circle where it begins. Look at my watch, which tells the time; it goes round, and so the world repeats itself again and again. But just as the hour-hand of the watch goes up to twelve and down to six, so, too, there is day and night, waking and sleeping, living and dying, summer and winter. You can't have any one of these without the other, because you wouldn't be able to know what black is unless you had seen it side-by-side with white, or white unless side-by-side with black.
[….]
This story, obviously mythical in form, is not given as a scientific description of the way things are. Based on the analogies of games and the drama, and using that much worn-out word "God" for the Player, the story claims only to be like the way things are. I use it just as astronomers use the image of inflating a black balloon with white spots on it for the galaxies, to explain the expanding universe. But to most children, and many adults, the myth is at once intelligible, simple, and fascinating. By contrast, so many other mythical explanations of the world are crude, tortuous, and unintelligible. But many people think that believing in the unintelligible propositions and symbols of their religions is the test of true faith. "I believe," said Tertullian of Christianity, "because it is absurd."
People who think for themselves do not accept ideas on this kind of authority. They don't feel commanded to believe in miracles or strange doctrines as Abraham felt commanded by God to sacrifice his son Isaac. As T. George Harris put it:
"The social hierarchies of the past, where some boss above you always punished any error, conditioned men to feel a chain of harsh authority reaching all the way "up there." We don't feel this bond in today's egalitarian freedom. We don't even have, since Dr. Spock, many Jehovah-like fathers in the human family. So the average unconscious no longer learns to seek forgiveness from a wrathful God above."
But, he continues—
"Our generation knows a cold hell, solitary confinement in this life, without a God to damn or save it. Until man figures out the trap and hunts… "the Ultimate Ground of Being," he has no reason at all for his existence. Empty, finite, he knows only that he will soon die. Since this life has no meaning, and he sees no future life, he is not really a person but a victim of self-extinction."
"The Ultimate Ground of Being" is Paul Tillich's decontaminated term for "God" and would also do for "the Self of the world" as I put it in my story for children. But the secret which my story slips over to the child is that the Ultimate Ground of Being is you. Not, of course, the everyday you which the Ground is assuming, or "pretending" to be, but that inmost Self which escapes inspection because it's always the inspector. This, then, is the taboo of taboos: you're IT!
Yet in our culture this is the touchstone of insanity, the blackest of blasphemies, and the wildest of delusions. This, we believe, is the ultimate in megalomania—an inflation of the ego to complete absurdity. For though we cultivate the ego with one hand, we knock it down with the other. From generation to generation we kick the stuffing out of our children to teach them to "know their place" and to behave, think, and feel with proper modesty as befits one little ego among many. As my mother used to say, "You're not the only pebble on the beach!"
Anyone in his right mind who believes that he is God should be crucified or burned at the stake, though now we take the more charitable view that no one in his right mind could believe such nonsense. Only a poor idiot could conceive himself as the omnipotent ruler of the world, and expect everyone else to fall down and worship.
But this is because we think of God as the King of the Universe, the Absolute Technocrat who personally and consciously controls every details of his cosmos—and that is not the kind of God in my story. In fact, it isn't my story at all, for any student of the history of religions will know that it comes from ancient India, and is the mythical way of explaining the Vedanta philosophy.
Vedanta is the teaching of the Upanishads, a collection of dialogues, stories, and poems, some of which go back to at least 800 B.C. Sophisticated Hindus do not think of God as a special and separate superperson who rules the world from above, like a monarch. Their God is "underneath" rather than "above" everything, and he (or it) plays the world from inside. One might say that if religion is the opium of the people, the Hindus have the inside dope.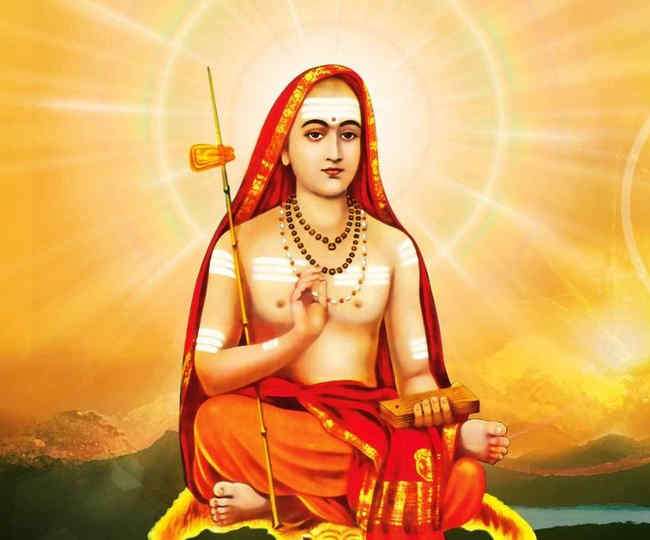 What is more, no Hindu can realize that he is God in disguise without seeing at the same time that this is true of everyone and everything else. In the Vedanta philosophy, nothing exists except God. There seem to be other things than God, but only because he is dreaming them up and making them his disguises to play hide-and-seek with himself. The universe of seemingly separate things is therefore real only for a while, not eternally real, for it comes and goes as the Self hides and seeks itself.
But Vedanta is much more than the idea or the belief that this is so. It is centrally and above all the experience, the immediate knowledge of its being so, and for this reason such a complete subversion of our ordinary way of seeing things.
[…]
Today the Vedanta discipline comes down to us after centuries of involvement with all the forms, attitudes, and symbols of Hindu culture in its flowering and slow demise over nearly 2,800 years, sorely wounded by Islamic fanaticism and corrupted by British puritanism.
As often set forth, Vedanta rings no bell in the West, and attracts mostly the fastidiously spiritual and diaphanous kind of people for whom incarnation in a physical body is just too disgusting to be borne. But it is possible to state its essentials in a present-day idiom, and when this is done without exotic trappings, Sanskrit terminology, and excessive postures of spirituality, the message is not only clear to people with no special interest in "Oriental religions"; it is also the very jolt that we need to kick ourselves out of our isolated sensation of self.
But this must not be confused with our usual ideas of the practice of "unselfishness," which is the effort to identify with others and their needs while still under the strong illusion of being no more than a skin contained ego. Such "unselfishness" is apt to be a highly refined egotism, comparable to the in-group which plays the game of "we'remore-tolerant-than-you." The Vedanta was not originally moralistic; it did not urge people to ape the saints without sharing their real motivations, or to ape motivations without sharing the knowledge which sparks them.
For this reason The Book I would pass to my children would contain no sermons, no shoulds and oughts. Genuine love comes from knowledge, not from a sense of duty or guilt. How would you like to be an invalid mother with a daughter who can't marry because she feels she ought to look after you, and therefore hates you? My wish would be to tell, not how things ought to be, but how they are, and how and why we ignore them as they are. You cannot teach an ego to be anything but egotistic, even though egos have the subtlest ways of pretending to be reformed. The basic thing is therefore to dispel, by experiment and experience, the illusion of oneself as a separate ego. The consequences may not be behavior along the lines of conventional morality. It may well be as the squares said of Jesus, "Look at him! A glutton and a drinker, a friend of tax-gatherers and sinners!"
Furthermore, on seeing through the illusion of the ego, it is impossible to think of oneself as better than, or superior to, others for having done so. In every direction there is just the one Self playing its myriad games of hide-and-seek. Birds are not better than the eggs from which they have broken. Indeed, it could be said that a bird is one egg's way of becoming other eggs. Egg is ego, and bird is the liberated Self.
There is a Hindu myth of the Self as a divine swan which laid the egg from which the world was hatched. Thus I am not even saying that you ought to break out of your shell. Sometime, somehow, you (the real you, the Self) will do it anyhow, but it is not impossible that the play of the Self will be to remain unawakened in most of its human disguises, and so bring the drama of life on earth to its close in a vast explosion.
Another Hindu myth says that as time goes on, life in the world gets worse and worse, until at last the destructive aspect of the Self, the god Shiva, dances a terrible dance which consumes everything in fire. There follow, says the myth, 4,320,000 years of total peace during which the Self is just itself and does not play hide. And then the game begins again, starting off as a universe of perfect splendor which begins to deteriorate only after 1,728,000 years, and every round of the game is so designed that the forces of darkness present themselves for only one third of the time, enjoying at the end a brief but quite illusory triumph.
Today we calculate the life of this planet alone in much vaster periods, but of all ancient civilizations the Hindus had the most imaginative vision of cosmic time. Yet remember, this story of the cycles of the world's appearance and disappearance is myth, not science, parable rather than prophecy. It is a way of illustrating the idea that the universe is like the game of hide-and-seek